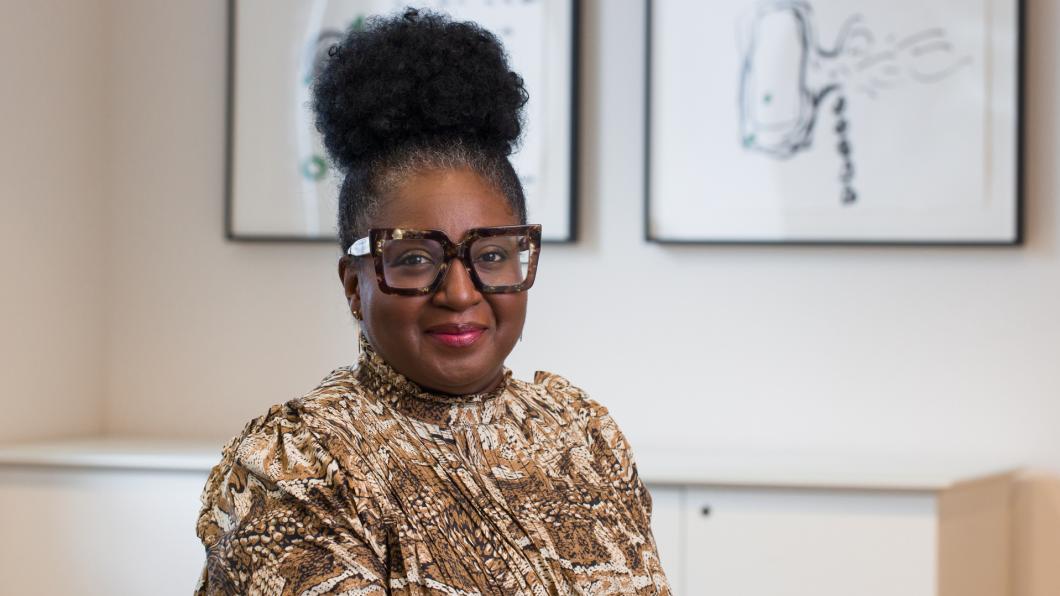 What does anti-Black racism look like at Holland Bloorview?
By Louise Kinross
Holland Bloorview has begun a consultation with its Black employees that asks a simple question: "What does anti-Black racism look like here?"
Dr. Notisha Massaquoi (photo above), an assistant professor in the Department of Health and Society at the University of Toronto-Scarborough and director of the Black Health Equity Lab, is leading the probe. She studies the impact of anti-Black racism on Black communities in Canada and is the parent of a child who receives care at Holland Bloorview.
"After the death of George Floyd, Holland Bloorview, like many hospitals in the city, put out a statement on anti-Black racism," Notisha says. "My question to the hospital was 'If you don't know the specific experience Black people are having in your hospital, how do you know what to do?' A lot of racism is very subtle, unconscious and built into the culture. A big part of eliminating anti-Black racism is being accountable to Black communities, so this is the work we're starting."
Notisha is seeking input from Black staff in a variety of ways. You can participate in a group or one-on-one meeting, make a submission by e-mail or over the phone, or fill out an anonymous survey. All information is confidential.
In addition to sharing incidents of racism, staff will be asked for recommendations on how the hospital can change its culture. "These recommendations come directly from employees, they are not filtered or interpreted through me," Notisha says. "The hospital has said they are doing this work, and these are the Black employees saying this is how you can do the work well."
In a 2020 employee engagement survey at Holland Bloorview, 37 per cent of Black and Indigenous employees said they had been disadvantaged or treated less favourably due to their race. Over half said they weren't comfortable bringing these experiences up with Human Resources.
"Holland Bloorview is part of a hospital system in Canada and within our country the levels of anti-Black racism are extremely high," Notisha says. "Your employee engagement report told us Black people are experiencing racism in the hospital. My engagement with Black employees is to paint a picture of what that experience looks like. What are the common themes that people experience, whether they sit on the board, or work as a nurse, or provide food services? What are the common experiences across the entire hospital?"
Notisha notes that if hospital staff report anti-Black racism, it's likely that Black families experience it. "My child is a patient at Holland Bloorview, so I am personally invested in the hospital's success," she says. "I think what's unique about being a Black mother of a child with a disability is that we're often limited to a certain provider based on the nature of the health issue." That can put a family that experiences racism in a health setting in a bind.
Generally speaking, "When you're a Black person that has to go somewhere for your child and you experience racism in that place, you're trapped," Notisha says. "It's not like I can go somewhere else. There's a level of intensity of the experience because you're already in a stressful situation, and then I experience racism, and possibly didn't get a positive response when I complained about that racism, and I still have to bring my child back to possibly experience racism again. As a Black parent, giving my child optimal health care, and the best that I can provide, may mean deciding between subjecting them to racial trauma or denying my child world class health care." 
Notisha says she will present her findings first to Black employees at Holland Bloorview, before presenting the final report to our senior management team. She says a natural next step would be to ensure that the experiences of Black families receiving care here are positive. "At the end of the day it's not just about your staff, it's about the client experience and client care."
There is still time to contribute to the Black experience probe at Holland Bloorview. Please contact Notisha at notisha@nyandaconsulting.ca or call 416-522-2563. 
Like this story? Sign up for our monthly BLOOM e-letter. You'll get family stories and expert advice on raising children with disabilities; interviews with activists, clinicians and researchers; and disability news.