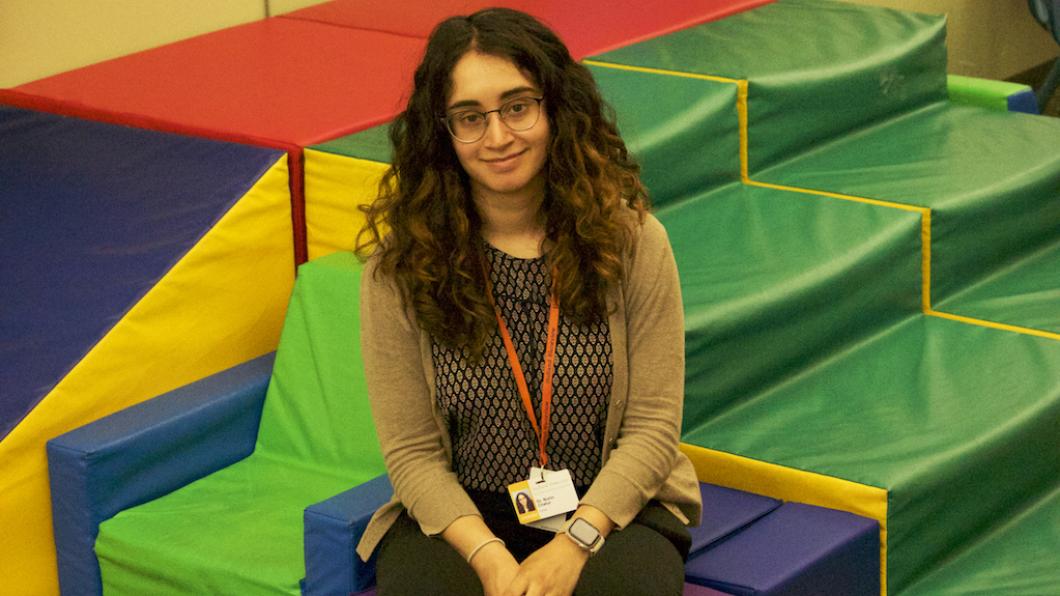 Sharing a child's diagnosis is 'never a cookie-cutter approach'
By Louise Kinross
Nurin Chatur has been studying medicine for over a decade. It began with three years in medical school at the University of Calgary. Then she did a year in a psychiatry residency at the University of Toronto, followed by a five-year residency there to become a child neurologist. Now she's in her second year in Holland Bloorview's developmental pediatrics training program. "I wanted to combine my interests both in neuroscience and neurology with behaviour and development," she says. We spoke about the joys and challenges of training to work with children with a wide range of disabilities and their families.
BLOOM: How did you get into this field?
Nurin Chatur: I was always interested in working with kids. In fact, I was initially in a general psychiatry residency with plans to become a child psychiatrist. But then I decided I was more interested in learning about child development and the interaction between medical, developmental and psychosocial functioning, so I switched to pediatric neurology. After that I thought becoming a specialist in both neurology and developmental pediatrics would allow me to assess and treat patients with both neurological and developmental challenges.
BLOOM: What sparked your interest in medicine and did you have any experience with disability?
Nurin Chatur: My mom is a nurse and my dad is a pharmacist. Growing up my sister had a lot of allergies and asthma and medical issues which affected my family. During my psychology undergrad I volunteered as a peer mentor and tutor for kids with learning disabilities and intellectual disabilities.
BLOOM: What is a typical day like as a developmental pediatrics fellow here?
Nurin Chatur: If I'm on a clinical block at Bloorview we're often seeing new patients for development and medical consultation, and sometimes doing a play-based developmental assessment. It could be children who have needs related to autism or physical disability or a genetic difference. Sometimes we're privileged to follow up with those children over time. When I'm working offsite, it's at places like SickKids or Grandview or Surrey Place or St. Michael's Hospital. Each place has its own focus and population, but the work is similar in terms of doing developmental and medical assessments.
BLOOM: What's the greatest challenge?
Nurin Chatur: I think it's being aware of what the family needs, and how to best deliver information about a diagnosis. We need to be open and ready for a dialogue. We don't want to dump information on them. We need to share the information in a way that is meaningful and comfortable for them. We need to know when to take a step back and give them space to ask questions. 
BLOOM: It must be hard because what's helpful for one family may not be helpful for another family.
Nurin Chatur: It's never a cookie-cutter approach, and that makes it interesting but also challenging. I try to remind myself to be aware of the person in front of me and the space they're in and whether there are other stressors. You have to adapt your own style to a specific situation.
We're privileged to learn in a space where we can fail, because we have our supervisor with us in clinic and if we're struggling we can ask for help. I've done that before and it gives us a safe environment. We have a lot of support from staff. They may collaborate with us on giving feedback on the diagnosis, or take a step back and allow us to do it. Hopefully as two doctors we can provide more comfort to families.
A big part of the fellowship is learning how to be flexible in delivering information and present with families.
BLOOM: What's the greatest joy?
Nurin Chatur: The opportunity for longitudinal care. Being there from the initial consultation to see the family in follow up and over time as the child and family grows and learns. Being a touchpoint for them during their journey is one of the best things about this field. 
BLOOM: What's it been like to do your training at Holland Bloorview?
Nurin Chatur: Incredible. Everyone, from every field, has been welcoming and made it a priority to teach us, even if it's in a busy clinic. For example in a hypertonia clinic, the physiotherapist will involve me in the patient's assessment and answer questions I have. You feel like you have a role on the team regardless of who you're working with.
BLOOM: What emotions come with this work?
Nurin Chatur: If a family is struggling I will feel stressed about it or I'll feel sad at times. I'll wish I could do more to help them. But my role is to be with them, by their side, while they deal with their emotions, and to be with them during their journey over time. It can be an emotionally difficult job but also fulfilling. 
BLOOM: How do you manage your emotions?
Nurin Chatur: Debriefing with other staff at Bloorview is really helpful. After a challenging case our supervisors often take time to go through how we're feeling and to share their thoughts about similar cases.
BLOOM: If you could change something about children's rehab, what would it be?
Nurin Chatur: I wish we had more resources so children across the province could access what they need in terms of therapy and other supports. We're privileged in Toronto to have some great resources, but even then our wait lists can be very long. I think about children in more remote areas of Ontario and Canada, but also worldwide, who don't have the same access to developmental and rehabilitation specialists that we do in Toronto.
BLOOM: Can you tell us about the research you're doing here?
Nurin Chatur: I'm involved in a project with Dr. Laura McAdam about bullying in patients with neuromuscular disorders. We know that children with physical disabilities are more likely to be bullied.
One part of the project is looking at the prevalence of bullying in this population. My part of the project is to interview patients aged 10 to 18 who have experienced bullying. We want to understand whether there was a helpful resource they could go to, or what supports they wish had been available. Anecdotally, we are hearing that many of them were bullied in elementary school, and the bullying was verbal. 
BLOOM: Where do you get your passion to learn over such a long period of time?
Nurin Chatur: I think medicine is a field where you are constantly learning and growing, both in a structured and academic way, but also informally through patient care. Seeing the knowledge I gain directly impact patients motivates me to keep learning.
Like this interview? Sign up for our monthly BLOOM e-letter. You'll get family stories and expert advice on raising children with disabilities; interviews with activists, clinicians and researchers; and disability news.