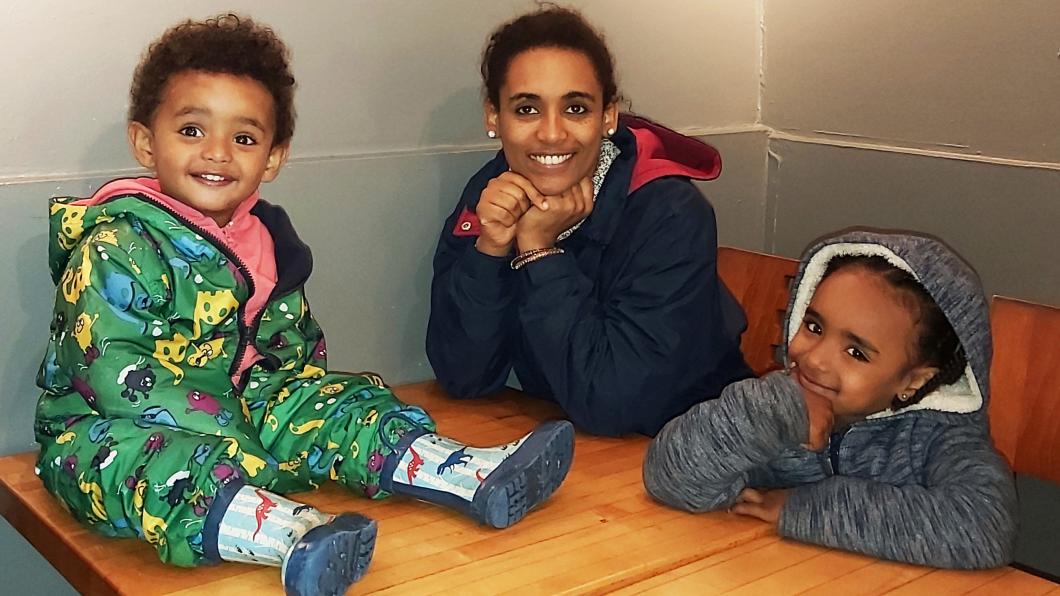 Holland Bloorview is training Ethiopia's first developmental pediatrician
Photo of Dr. Selamenesh Tsige with her two children
By Louise Kinross
At the College of Health Sciences at Addis Ababa University in Ethiopia, Dr. Selamenesh Tsige is known as a bit of a trailblazer.
It bothered the pediatrician that families from remote parts of the country sold everything they had to bring their child to the hospital, only to become homeless there, sleeping on cardboard and plastic outside. So she organized volunteers and established a shelter that accommodates and feeds over 100 people. When the volume of children seen in the neurology clinic meant no time to counsel parents of children with cerebral palsy, Selamenesh started a separate developmental clinic to serve them. And when a hospital practice didn't make sense to her, she would speak out, even though the medical system there is extremely hierarchical.
"Back home I felt I was fighting the system," Selamenesh says. Now in her third month of a two-year developmental pediatrics program at Holland Bloorview, she says she didn't push hard enough. "I didn't know things could be even better. At Holland Bloorview, there is still a hierarchy, but it is not a means to show your power. Everyone here, whether they're higher or lower, communicates and interacts with each other. As students at home, we were afraid to talk to our professors. Here, if I want to speak with Dr. Golda or Dr. Angela, I speak to them directly. There's nothing frightening. It feels like I'm in a movie because this kind of thing I only saw in the movies."
Although disability awareness is flourishing in Addis Ababa, in Ethiopia's countryside disability is viewed "as something that comes upon a family because they've done some kind of sin, and they're being punished for that," Selamenesh says. Due to stigma, families keep their disabled children at home. "Usually the husbands of the moms I see will leave and marry someone else, and the mom is left with nothing. She can't work and we don't have a welfare system." 
It was while doing a residency in pediatrics that Selamenesh first worked with children with cerebral palsy and their families in a busy neurology clinic. Up to 80 patients were seen in the morning and the focus was on treating seizures, not talking about a child's development or how the family was coping. "Sometimes I would find a mom crying and she would tell us so many problems she's facing. She's divorced and is now caring for her son with no income, and he's getting heavier and she can't move him around. It bothered me that we would hear about all these problems, and then just refill the seizure medication."
After doing a population-based study on children with cerebral palsy for her graduate thesis, Selamenesh started a developmental clinic with the support of her professors and the hospital's neurologist. Patients for the Thursday afternoon clinic were limited to 20, so Selamenesh and a handful of residents only saw three to four families each and could spend more time with them. "We can do a full examination, try to identify possible preventable risk factors, propose home-based supports and explore support links. We give attention to the parents and they are very responsive. Even if they don't see any change in their child, they are happy that someone is listening and telling them about possibilities."
Selamenesh began making contact with experts in cerebral palsy around the world. Over time, she found some of her views changing. "In our clinic, we didn't allow families to take their kids abroad for treatment. But by the end of my practice, I started to [bend] the rules. We don't have occupational or speech therapy in our major tertiary hospital, and physiotherapy is very limited. I came to understand that even though a cure is not possible, these children and parents would get better support."
Her advisor suggested she might be interested in pursuing a specialty in developmental pediatrics, so she would be trained to work with children with a variety of congenital and acquired disabilities.
There are currently no developmental pediatricians in Ethiopia.
"I googled 'developmental pediatrics' and I found CanChild at McMaster and the University of Toronto. I never found Holland Bloorview. CanChild doesn't accept international students unless they're funded, but they included Dr. Golda in our e-mail loop. She told me Holland Bloorview had already trained an amazing developmental pediatrician from Kenya called Susan Wamithi. It happened that Susan and I had already worked together with the Eastern Africa Academy of Childhood Disability. Susan spoke so highly about Holland Bloorview's program. But I did my own research, and I learned that what you're doing here is the best in the world. I want to be in the best place and get the best possible knowledge."
Selamenesh says the most challenging part of training at Holland Bloorview is keeping up with the electronic work and working in English, which is not her first language. "We don't have an electronic health record in the pediatrics unit back home. Typing with my friends here is challenging. In Ethiopia we use a paper-based system where we write. So it's very challenging to type notes when a family is speaking. The notes here are very detailed and need to be written sensitively. I primarily think in Amharic and translating everything into English is very tiring."
Selamenesh is learning to write reports in family-friendly language. "I have to write in a way that is sensitive and makes sense for parents," she says. In Ethiopia, parents don't usually have direct access to their child's reports." Here, the parent is involved in the medical management of the child, which is very nice. I like working with parents, whereas in Ethiopia, families expect me to tell them what to do. My training at home was very problem-oriented, as opposed to promoting the function of the child and communicating their strengths. Here I'm learning how to focus on the developmental gains that a child shows since the last visit, rather than focusing on what the child can't do. That's what I came to learn."
Selamenesh says the most important quality in a developmental pediatrician is compassion. "You need to be able to put yourself in the shoes of the child and parent," she says. "How would I see this child if it was my child? How would I want someone to treat my child?" 
Selamenesh has noticed a marked difference in how clinicians respect the personal space and autonomy of children here. "It's amazing to me how you respect communication and mobility devices as if they were a part of a child's body. In Ethiopia, if we find someone is having difficulty going downstairs, we ask where they want to go, but we don't ask if it's okay to [touch] their wheelchair before we pick them up and carry them around. We're a socially close people. If we're talking to a child on a wheelchair, we may lean on the wheelchair. I never thought that it's similar to leaning on the person without asking their permission."
The day Selamenesh learned she was accepted into our developmental pediatrics program "was the happiest day of my life," she says. "That was the start of my biggest dream. I want to expand the developmental clinic in Ethiopia to run full-time, and to see other children with disabilities. I want to be involved in developing curriculum and training and supervising fellows. I can't do it alone and now I'm happy that I'm attracting other fellows. I want to take back a multi-disciplinary approach and push the government to bring occupational and speech therapists into the system and train physiotherapists. I'm thinking there could be a collaboration between our university and the University of Toronto."
Selamenesh says she is deeply grateful for the full scholarship she received from the University of Toronto and Holland Bloorview, as she received no support from the Ethiopian government.
Right now, her fellowship is providing her with a welcome distraction from painful worries about the political situation back home. "We are in a civil war and many civilians are losing their lives and being imprisoned. It kills me to see my people being hurt and I live in constant worry. There are many strong emotions. One of the amazing things at Holland Bloorview is that people want to help you in every way possible, even engaging in your personal life. They don't want me to have anything in my mind that could affect my performance." All the new things she's learning here, and spending time with her husband and children on the weekend, help her manage stress.
When asked if there is anything she would change about Ontario's children's rehab system, she says "the waiting lists. We have thousands of waitlists in Ethiopia, but I didn't think you had them. When I was working in one of your clinics, I saw some kids were discharged after a few visits, and I asked why we wouldn't continue following them? They said we could only follow them for a limited time because we have to let other children come off the waitlist. You have a well-organized system where you can transfer care easily, but I wish there was no waitlist for disability care."
Working in medicine is not financially profitable in Ethiopia. As a pediatrician and assistant professor of pediatrics, Selamenesh recently made the equivalent of $350 a month. "The medical system is not well resourced in our country, so doctors often look for opportunities in the United States."
That's not a consideration for Selamenesh. "I want to make our developmental unit very strong and change the lives of children and moms. I even think of establishing a rehab hospital like Holland Bloorview back home. I have big dreams and this is the starting point."
Like this story? Scroll down to the blue banner and sign up for our monthly BLOOM e-letter. It's full of real family stories, professional advice, research and clinical news, and new books.