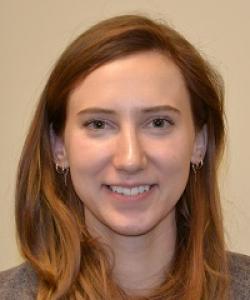 Karly S. Franz
Graduate Student
PhD Candidate
Biomedical Engineering, University of Toronto
Advisor: Dr. Tom Chau
Education
Karly completed two Bachelor of Science degrees in electrical engineering and biomedical engineering at Case Western Reserve University. As an undergraduate student, she contributed to neuroprosthetic research by designing sensors for a home use prosthetic limb that can restore sensation in upper limb amputees. She received her Master of Applied Science in biomedical engineering from the University of Toronto in 2018. Her thesis characterized the hypogastric nerve mechanism in inhibiting bladder function during electrical stimulation of the saphenous nerve for overactive bladder therapy.
Research
Karly's current research focuses on understanding collaboration and cognitive synchrony between children and their parents through implementation of dual neuroimaging approaches during naturalistic interactions.  
Other Interests
In her free time, Karly volunteers to teach older adults to use technology. She also enjoys salsa dancing and has performed at different venues across Canada.