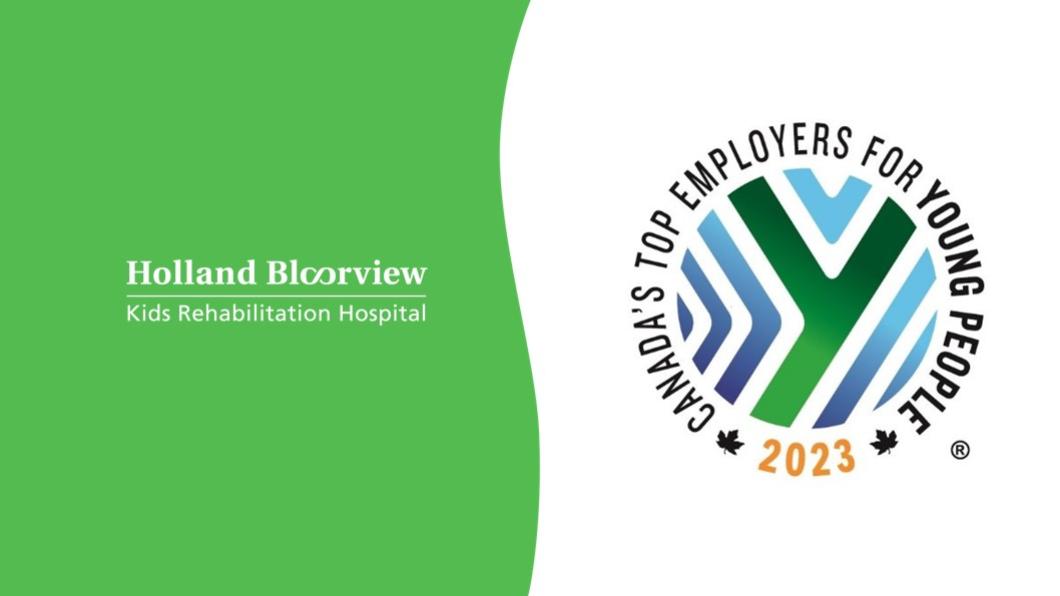 Holland Bloorview named one of Canada's top employers for young people
Holland Bloorview Kids Rehabilitation Hospital has been honoured as one of Canada's top employers for young people for the 11th year. Canada's Top Employers for Young People Award recognizes employers offering top workplace environments and programs for young people starting their careers.
"Especially with the impact of the pandemic and the challenges faced by our exceptional team, I'm thrilled that Holland Bloorview has been selected as a recipient of this award again, for the 11th year," says Julia Hanigsberg, president and CEO, Holland Bloorview. "Now more than ever we need to sharpen our focus on creating the opportunities and quality of work experience to retain experienced members of our team and attract that next generation. We value the skills and knowledge young people bring to our organization, and their commitment to an equity-focussed, child and family centred environment -- one where caring safely applies to all."
Committed to disability inclusion with its "Imagine Everybody" anti-stigma campaign, social accountability and anti-racism, the hospital is a place where every employee can make an impact.
Some key components contributing to Holland Bloorview's recognition include:
Employment of 414 students and trainees as well as 78 paid interns and summer students
Hiring 25 recent graduates on a full-time basis
As of December, 2022, 11 per cent of all Holland Bloorview full-time employees were under the age of 30
As a teaching hospital fully affiliated with the University of Toronto, Holland Bloorview provides an extraordinary learning environment and support for students and trainees in medicine, nursing, health disciplines and across a wide variety of other fields. The Bloorview Research Institute (BRI) trains the next generation of scientists and researchers from across Canada and the world.
Holland Bloorview also provides a 10-month school-to-work transition program for youth with developmental disabilities in their final year of high school. Project SEARCH helps students develop competitive, transferable skills required for entry-level employment.
Andrew Kinapen, stewardship and administration assistant at Holland Bloorview Foundation participated in project SEARCH as a student, starting off in a placement with the Holland Bloorview's Foundation, which ultimately grew into a full-time position.
"Holland Bloorview has changed my life! I've worked in the foundation for two years and I love it," says Andrew. "I am the face of the foundation. I help staff and clients make donations, handle merchandise and support staff in other administration work. I am so grateful to be a part of making a world were disability is included."
This award closely follows Holland Bloorview's 13th consecutive award for Greater Toronto's Top Employers, announced December 9, 2022.
The official announcement can be found on the Canada's Top 100 website.
About Canada's Top Employers for Young People
Canada's Top Employers for Young People is an editorial competition organized by the Canada's Top 100 Employers project.  This special designation recognizes the employers that offer the nation's best workplaces and programs for young people just starting their careers. The employers on this list are Canada's leaders in attracting and retaining younger employees to their organizations. Each employer is evaluated by the editors of Canada's Top 100 Employers in terms of the programs they have to attract and retain younger workers. These include benefits such as tuition assistance and the availability of co-op or work-study programs.