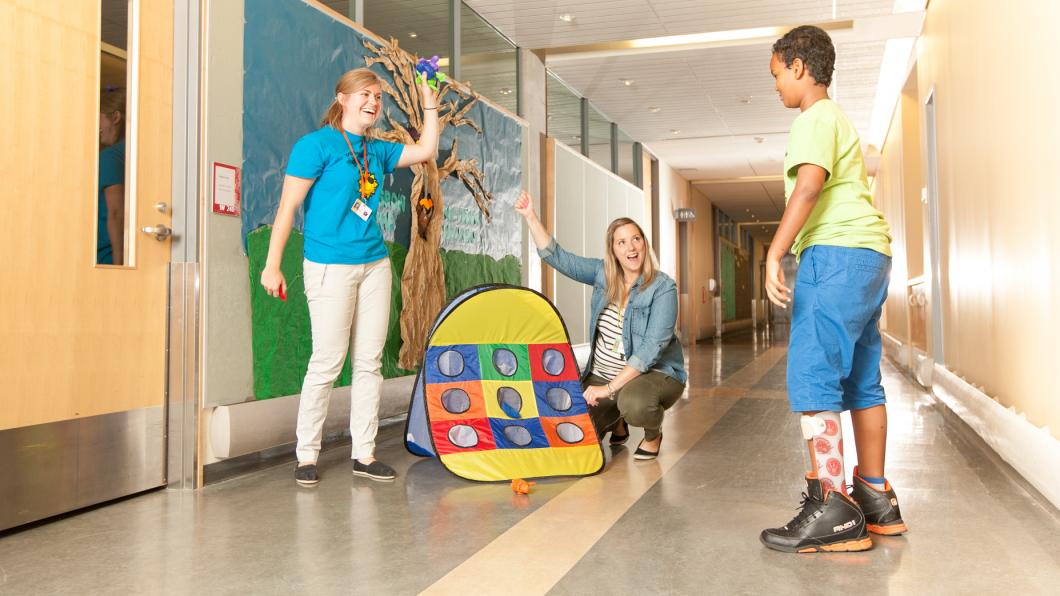 Holland Bloorview named a 2015 Top Canadian Employer for Young People
Toronto ON, May 5, 2014 – Holland Bloorview Kids Rehabilitation Hospital is thrilled to be recognized as one of Canada's Top Employers for Young People for 2015.
"Students and young graduates are an invaluable part of the organization," says Julia Hanigsberg, President and CEO at Holland Bloorview. "Attracting and recruiting young talent is about investing in their development and the organization's future. Holland Bloorview is committed to providing innovative and inclusive programs that encourage learning and mentorship for young adults beginning their careers."
The competition recognizes employers that provide exceptional opportunities and support for young people starting their careers. This is the fourth consecutive year that the hospital has received this recognition.
From Erin Wilkie's perspective as a therapeutic recreation specialist at Holland Bloorview, student placements are a win-win scenario. "It's always nice to have someone with fresh energy, who understands the theory and is ready to put it into practice. They can teach us. They bring ideas of approaches they have tried out, which can be applied in our setting."
Holland Bloorview works with over 500 students and trainees every year. In a recent study, nearly 89 per cent of students and trainees indicated that they very often had the opportunity to apply new knowledge during their placement and 79 per cent strongly agreed that the feedback they received from their supervisors were helpful.
"Holland Bloorview's onboarding process helped make the transition easier. My mentors worked closely with me to set expectations and inform me of the different opportunities available," says Carmina Canezal, Communications student at Holland Bloorview. "I've been able to apply theory and practices learned from school in an encouraging, safe and collaborative environment."
Teaching is a fundamental part of the hospital's culture. Annual events, hosted by the hospital including the Teaching and Learning Insitutute's annual conference ensure that education is paramount. The hospital works to provide students and trainees with a number of learning opportunities to help them understand other health disciplines and programs to help further develop their skills and abilities.
Holland Bloorview is a unique and exceptional working environment dedicated to creating a world of possibilities for kids with disabilities and their families. The hospital provides a friendly and supportive atmosphere that nurtures professional development, workplace well-being and offers a competitive salary and benefits.
About Holland Bloorview
Holland Bloorview Kids Rehabilitation Hospital (Holland Bloorview) is Canada's largest children's rehabilitation hospital focused on improving the lives of kids with disabilities. Holland Bloorview is a global leader in applied research, teaching and learning, and client and family centred care. We are a provincial resource transforming care for children with cerebral palsy, acquired brain injury including concussion, muscular dystrophy, amputation, epilepsy, spina bifida, arthritis, cleft-lip and palate, autism and other physical and developmental disabilities. Our vision is to create a world of possibility for kids with disability. For more information please visit www.hollandbloorview.ca
Photo: Erin Wilkie, therapeutic recreation specialist, and student Sarah Giroux blend their unique perspectives during program planning for clients like Samatar.