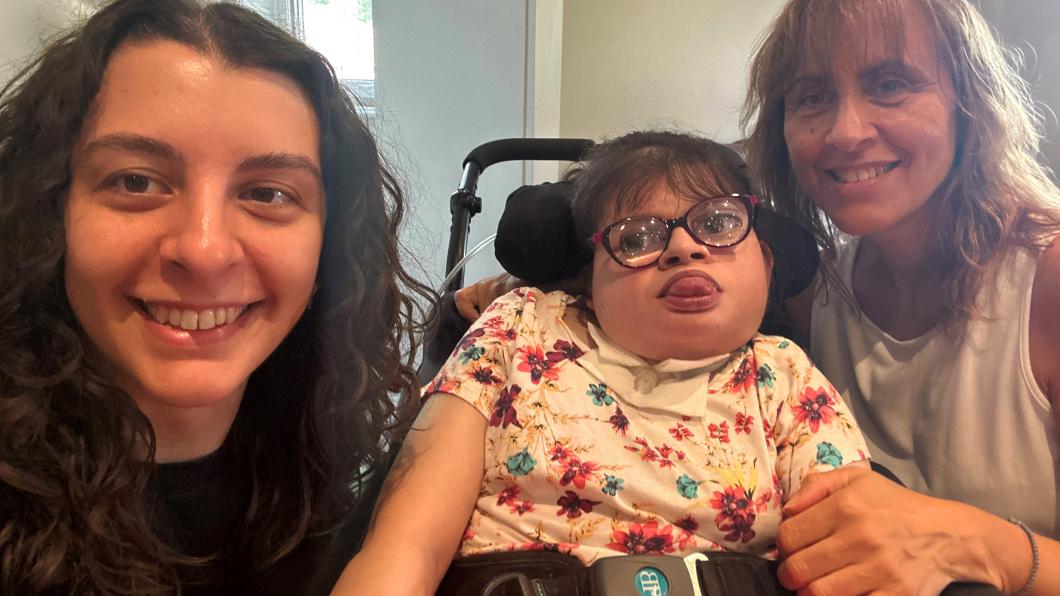 No night nurse means no sleep for Ontario mom
Victoria Rombos (left) with sister Chrysoula and mother Mary.

By Louise Kinross
The other day my colleague Victoria Rombos dropped by to say her family has struggled for almost two months without a night nurse for her sister Chrysoula, 24. Chrysoula, who has seizures and a feeding tube, relies on a surgical opening in her neck and a tube in her trachea to breathe. Without a night nurse, care falls to her mother Mary. On bad nights, Mary gets only one to two hours of sleep.
The Toronto family is funded by Home and Community Care Support Services for 40 hours of home nursing a week, but the nursing agency hasn't filled a single shift since the end of June. Mary was told there is no tracheotomy-trained nurse available. After her night shift, Mary looks after Chrysoula during the day.
A shortage of skilled home-care workers is affecting families everywhere. Last week the BBC reported on how British mother Alex Spencer stayed awake 60 hours in a row to care for her 24-year-old son Declan, who uses a ventilator, due to a shortfall in workers. They also covered a survey by the British charity Sense which found that one in four parents of children and adults with complex disabilities spent 72 hours a week providing care.
Last summer, Ontario software developer Michal Kaliszan started this GoFundMe page to try to raise the almost $800 a day to cover personal support care for him around the clock. He has spinal muscular atrophy and his mother, Jolanta, who used to provide his night care, has since died. 
"I'm eligible for 41 hours per week of government-funded home care via Ontario's Direct Funding program, but with province-wide personal support worker shortages and low hourly pay mandated by the program, it is a struggle to fill these hours," he writes. "Even fully staffed, 41 hours per week is not enough for me to survive alone." This recent piece in The Nation details his options—go into a nursing home at age 39 or apply for Medical Assistance in Dying (MAID).
San Francisco disability rights activist and author Alice Wong finds herself in a similar position. "I am filled with anxiety about my ability to pay for my ongoing care and the threat of institutionalization once the money from [my] GoFundMe campaign runs out," she writes on Help Alice Stay In The Community. Last summer a series of medical crises landed her in intensive care for a month. She came home with a tracheotomy that attaches to a ventilator to enable her to breathe. She needs US$720 a day to remain in her home.   
Meanwhile, in Ireland, Geraldine Lavelle, a 36-year-old writer and artist with a spinal cord injury, lives in a nursing home while the house she was to move into this month sits empty. Due to staffing shortages, the agency which was to provide her with 56 personal support hours a week can't fill her shifts. The Irish Times reports that the stress is taking a toll: "I just said to someone I am going to be dead before I get there. And I am not even joking."
The crisis in home-care is something that BLOOM has covered for a couple of decades. Marcy White is a Holland Bloorview parent who shared about the problems getting competent home workers in this 2015 piece: Why home nursing is not respite for one mom. In this 2016 piece for Global News, she said 40 per cent of her son Jake's shifts had been missed that month.
Four years later, in 2019, she was still talking about home nurses who lack the skills to care for children who use ventilators in this BLOOM story: Ontario mom says home nursing has never been 'worse.' (By the way, Marcy recommended a new model of home care in this CMAJ piece the same year: "We need skilled nurses, hired by hospitals, who will do a certain percentage of their shifts in the community," she told BLOOM. Home nurses are paid much less than hospital nurses.)
I messaged Marcy for this story: "Has anything changed since 2019?" 
"Nope," she responded. "Nothing. Except people use COVID as an excuse. But for the real complex patients it's no different. Just easy to hide behind the excuse."
Four years ago, American clinicians wrote a Viewpoint piece in JAMA Pediatrics calling for work-hour limits for parents caring for children with high medical needs at home. They said we needed safety standards similar to those seen in high-risk work such as nursing, aviation and trucking.
I've never read about a jurisdiction implementing standards like that. Have you?
Let's not forget that in addition to putting parents and children in danger at home, our broken system of home care sometimes means kids can't go to school. Two years ago, we were writing about 12-year-old Sawyer Schultz in Bowmanville, Ont. "In August, Sawyer's mom Kayla was told that although her son is funded for 19 hours of care a day, there was no nurse to fill the day shift, and that meant no school for Sawyer in the fall." 
No sleep for parents. No school for kids. In what universe is this okay? 
BLOOM reached out by e-mail and phone to Ontario's health ministry for a comment about the Rombos family's situation, but did not receive one. 
Victoria Rombos is the coordinator of Holland Bloorview's Sibling Support Program and a research coordinator in our Autism Research Centre. Like this story? Sign up for our monthly BLOOM e-letter. You'll get family stories and expert advice on raising children with disabilities; interviews with activists, clinicians and researchers; and disability news.