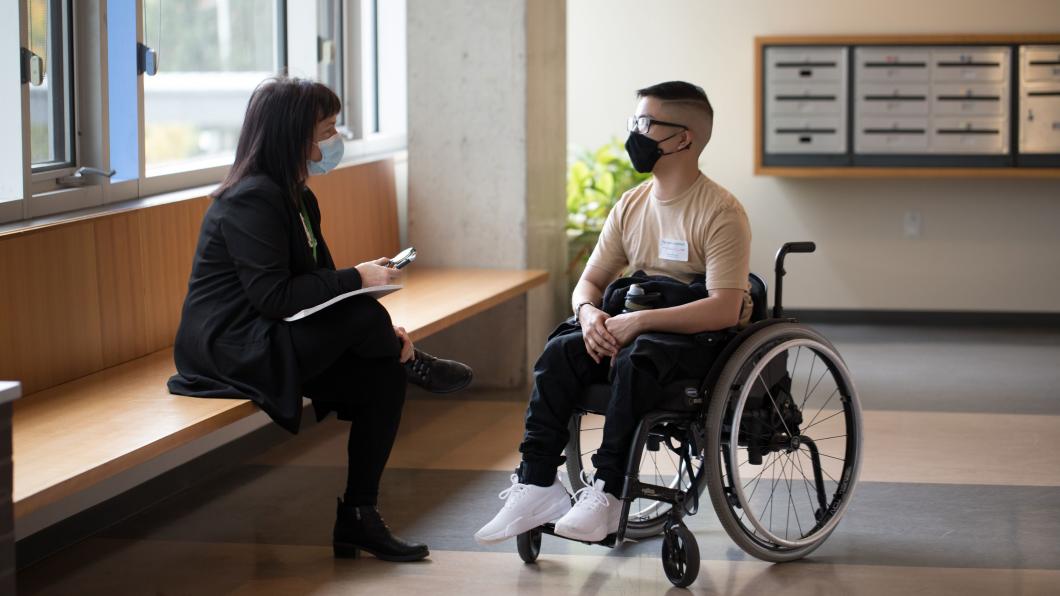 On-site accreditation survey highlights safe, high-quality, client-centred care
Representatives from Accreditation Canada to visit Holland Bloorview 
Over the past year, Holland Bloorview Kids Rehabilitation Hospital (Holland Bloorview) has embarked on a comprehensive evaluation of its quality and safety standards in partnership with Accreditation Canada.
Accreditation is an international, voluntary peer review process for health care organizations that takes place every four years. Each accreditation process gives us an opportunity to evaluate the safe, high-quality care we provide to clients and families and understand how we can do even better. The COVID-19 pandemic has only served to underscore the importance of keeping quality and safety top-of-mind, and accreditation is one of the ways we do this as an organization.
Our 2021 evaluation will culminate in an on-site visit when external surveyors (evaluators from Accreditation Canada) will have the opportunity to observe quality and safety practices in-hospital and engage people they meet. Our on site survey is taking place on Monday, October 18thand Tuesday, October 19th with meetings taking place both on Zoom and in-person.
As a continuation of our internationally-recognized partnership with clients and families, Holland Bloorview created the Family Leaders Accreditation Group (FLAG). FLAG, our family engagement partnership model, has provided the engagement framework through which clients and families have been full and equal partners in quality improvement leading to Accreditation.
While onsite, the surveyors attend meetings and engage with those they meet, including clients and families, staff, students, volunteers, community partners, and members of our board of trustees. Like all on site visitors and hospital team members, the surveyors are required to follow our masking, sanitizing and distancing protocol. All surveyors will be in adherence to our mandatory vaccination policy.
Surveyors may ask families questions such as, "How are you involved in decisions about your or your child's care?" or "What are some of the ways your care team keeps you safe?" While we encourage clients and families to participate, it is ultimately their decision whether or not to do so.
As part of the process, surveyors also review client medical records to learn more about how we provide care. Client consent will be obtained prior to a surveyor accessing client records whenever possible, and all surveyors will sign a confidentiality agreement upon their arrival. We thank our clients and families for partnering with Holland Bloorview to improve the quality and safety of care every day.
If you have questions about Accreditation 2021, please ask a member of your clinical care team.
Our last survey took place in 2017 and concluded with a recognition of the outstanding care provided for clients and families. Read more about our 2017 survey here.