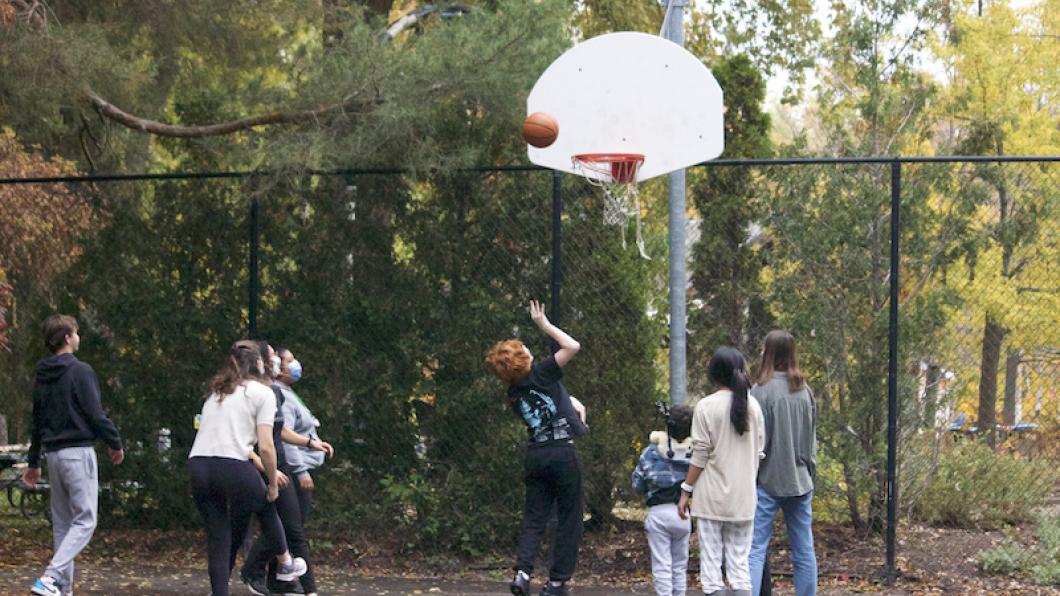 Making baskets is part of therapy at children's hospital
By Louise Kinross
From my office window I have a perfect spot to watch the outdoor basketball court at the back of Holland Bloorview, nestled up against the tall trees in the ravine.
It's usually empty, but this summer and fall there was a flurry of activity as clinicians incorporated the game into therapy for our inpatients. 
"A lot of clients were saying they were interested in the sport and played it recreationally at home," says Laurin Black, a physiotherapist on our brain injury unit. "I thought of it as a way to bring them out of the hospital environment and back into the things they like, as well as giving them an opportunity to socialize with peers."
Laurin says any child or teen who is doing rehab here can benefit from it. You'll see kids out there using a wheelchair or walker, or wearing leg braces or a spine and neck halo. "Some kids are walking with support and others are walking independently and it benefits all of them for that social camaraderie," Laurin says.
Laurin began organizing weekly games of clients against staff which proved incredibly popular. "The kids get a kick out of beating us and showing the skills they have. We're often challenging them in ways that can be frustrating in therapy, and this is a good outlet emotionally."
Different disciplines have worked with youth on the court. "We've done joint sessions with psychology for some of the kids who don't feel super comfortable opening up in a clinical environment, but will share more information when they're among peers and playing a game," Laurin says. "You can really see their personalities come out."
Occupational and speech therapists and a dietician have also brought children out to play. "It's good for kids to see their clinical team outside of the hospital environment and to be in nature," Laurin says. "Some kids who like dogs will count the dogs they see walking along the trail beside the court."
Laurin says she also takes kids into the ravine as part of physiotherapy sessions. "We do anything from scavenger hunts to squatting down and picking up coloured leaves and walking on uneven surfaces. Sometimes after a long admission at SickKids Hospital, our clients may not even know what season it is. So I try to bring all of my kids out."
Like this story? Sign up for our monthly BLOOM e-letter. You'll get family stories and expert advice on raising children with disabilities; interviews with activists, clinicians and researchers; and disability news.