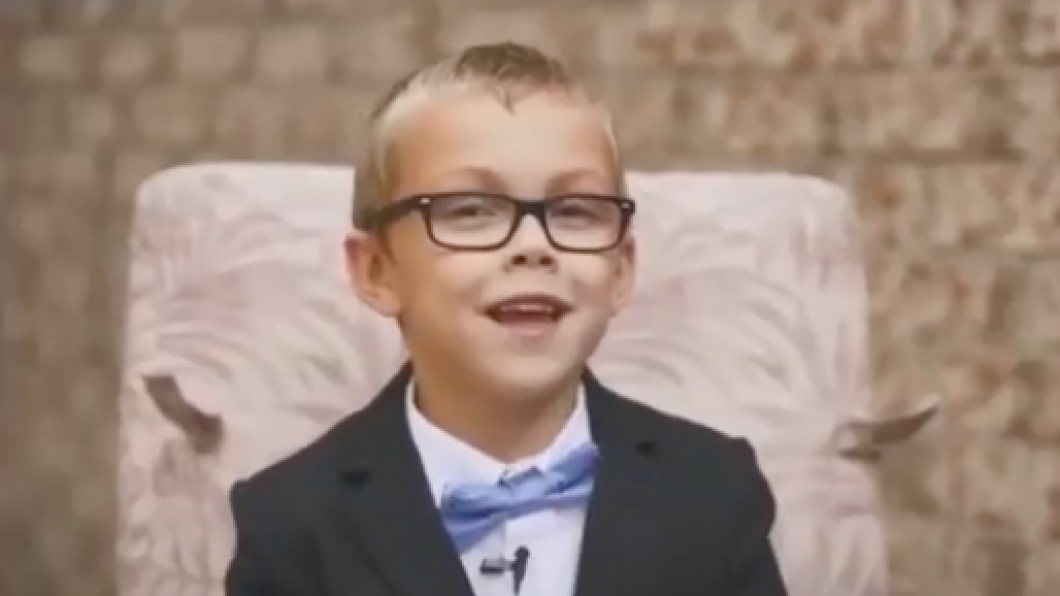 Story
Behind the scenes of An Evening of Possibility
After school, I usually eat a snack, practice piano, and maybe do some homework. I definitely don't put on a bow tie—unless I'm emceeing An Evening of Possibility, that is!
On November 2nd, 2020, my mom picked me up after school and helped me get ready to emcee Holland Bloorview's Evening of Possibility. I practised my lines one more time, put on my favourite blue bow tie, and tried to make my hair camera ready—head's up: COVID-19 haircuts and fancy Zoom events are not a great combination!
Last year, I helped emcee An Evening of Possibility at Holland Bloorview. This year, I emceed from home. Don't tell anyone, but I wore sweatpants with my dress shirt!
Before logging onto the Zoom call, my mom and dad helped me get set up. I was wearing a white shirt, but because of the white background, I appeared onscreen as a floating head! Thanks to some green duct tape, all of the technical issues were solved just in time for start of the event.
While the 14th annual Evening of Possibility happened virtually, that didn't stop anyone from supporting Holland Bloorview. I'm so happy that we raised $560,000 for the Bloorview Research Institute, the new accessible playground, and cool tech to help kids with disabilities just like me!
I love emceeing An Evening of Possibility because I get to thank everyone for their donations to Holland Bloorview. This year, I said thanks to over 200 people who joined the event!
It took some practice to say the names of all of the sponsors, but I think I finally nailed it. I even added an extra thank you to Holland Bloorview board member Sean McNulty for his $125,000 matching donation.
While the adults learned how to make a signature cocktail and got gift cards to restaurants that supported An Evening of Possibility, some ambassadors and I sang a song that we wrote for that night. I love music, singing, and playing the piano, so the song was my favourite part of the event.
I love talking to people who donate to Holland Bloorview, and it's amazing that we could continue the Evening of Possibility this year, even virtually. I can't wait until I can thank everyone in person!
Until then, see you at the next Evening of Possibility.
Thanks again to our sponsors: Allied Reit, AON, Carol Cowan Levin, Catherine Wood,
David Coriat, Ernst & Young, Jean Lam + Paul Ostrander, National Bank, Westdale Properties
Osler, Hoskin & Harcourt LLP, Robin and Barbara White, SAP, XIB Financial, RBC, BMO, CIBC, CI Financial, INFOR Financial, Scotiabank, TD, Altus Group, BASF, Globe and Mail, Prairie Organic
And in case I forgot to say it, you are awesome!
Sincerely,
Alex
Call to action Text
Help support kids and youth with disabilities today!
Donate Now