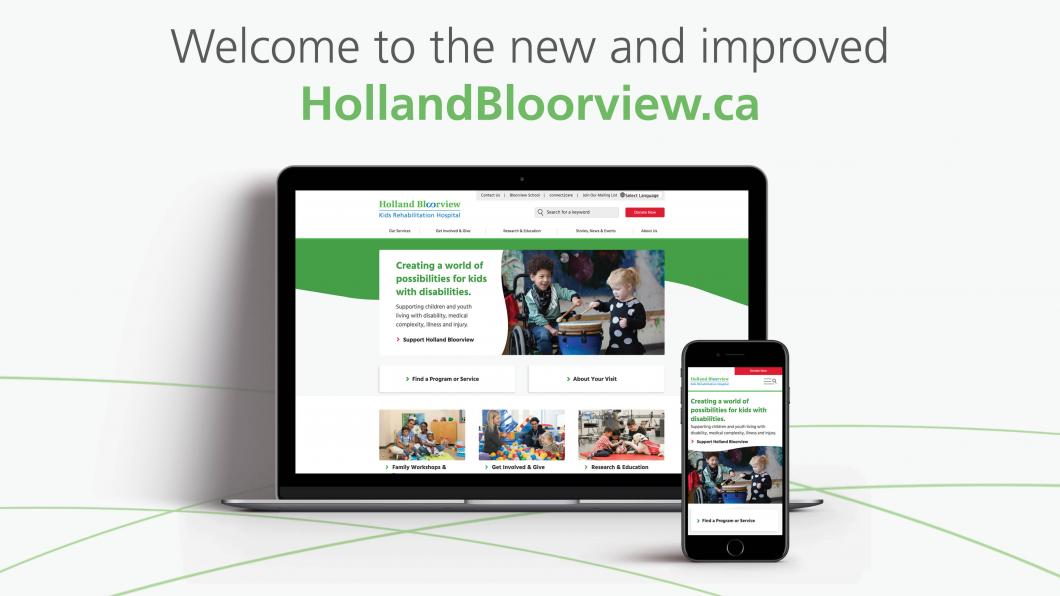 Welcome to Holland Bloorview's New Website!
And . . . we're live!  Holland Bloorview Kids Rehabilitation Hospital (Holland Bloorview) is excited to present a new and improved website, designed to enhance user experience while making content easier to find and share.
"Our new site was designed in collaboration with clients, families and donors, and includes a number of new features, such as increased accessibility, language options and enhanced mobile experience, " said Stewart Wong, vice president, communications, marketing and advocacy. "The end result is a website with improved navigation, search function, visual layout and overall usability."
New features
The new website offers a number of fresh and innovative features that will allow visitors of all abilities to find the information they need when visiting our website, including:
Refreshed and streamlined content into one seamless browsing experience such as information about hospital services, giving, research and education as well as stories from BLOOM, our special needs parenting blog;  
Translate function for over 100 languages;
One-button sharing of content on social media channels; 
Easy newsletter sign-up to stay connected to Holland Bloorview;
Improved visual appeal and navigation;
Enhanced accessibility features;

Improved integration of donation opportunities throughout the site;

Mobile friendly; and
Enhanced access to Holland Bloorview news, stories and events.
A true collaborative effort
With clients and families at the forefront of all that we do, the redesign was a true collaborative effort, including the views of clients, families and staff throughout the 18-month journey. 
The process included hundreds of points of engagement and incorporated feedback from focus groups, surveys and one-on-one sessions.
The modernized site will help Holland Bloorview deliver on our vision of creating the most meaningful and healthy futures for all children, youth and families.