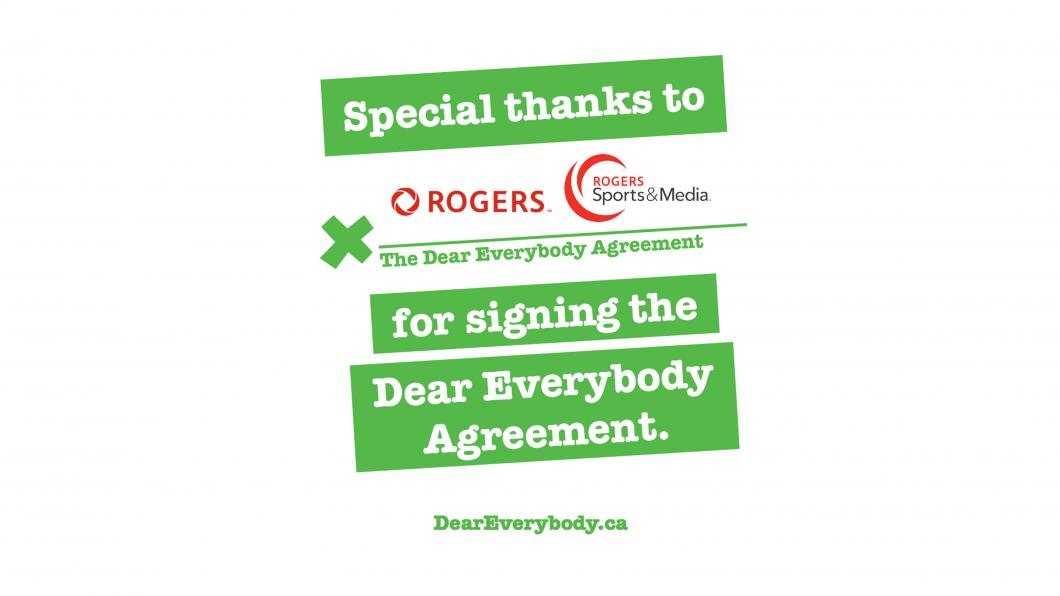 Rogers and Rogers Sports & Media signs Holland Bloorview's Dear Everybody Agreement
As a signatory they pledge to include more people with disabilities in their marketing & creative.
As our first telecommunications partner Rogers, and first media broadcast partner Rogers Sports & Media have signed Holland Bloorview Kids Rehabilitation Hospital's Dear Everybody Agreement, a commitment that will see them feature people with disabilities more prominently in their consumer advertising, including their casting and creative across television, out-of-home, digital, and social advertising. The Dear Everybody campaign aims to help create a more inclusive media landscape and remove disability stigma, particularly for Canadian kids and youth. This year is its fourth year running.
"I am excited to announce Rogers Sports & Media as a Dear Everybody signatory. A respected media outlet in Canada with deep roots coast-to-coast, they reach a wide audience online and through TV, radio, sports, e-commerce, and digital. They can make a meaningful impact on the frequency and portrayal of people with disabilities," said Sandra Hawken, president and CEO, Holland Bloorview Foundation. "Their support sends a powerful message, and I applaud them for making this statement. I look forward to broadening our partnership and working together to advance this important cause."
"We are proud to be working with Holland Bloorview on this important initiative," said Nancy Thomas, Vice President, Brand, Rogers. "One of our core values at Rogers is embracing and celebrating diversity and that is something that we honoured through our What We Bring campaign earlier this year. With this pledge, we commit that the diversity of our team, our customers, and our country will not only be reflected, but celebrated in our advertisements and marketing materials at Rogers."
"At Rogers Sports & Media, we are committed to ensuring that our casting and creative for television, out-of-home, digital, and social advertising across all of our brands are representative of the entire Canadian population, and this includes people with disabilities," said Andrew Sutherland, Vice President of Marketing & Creative, Rogers Sports & Media. "We are incredibly fortunate to be able to partner with the outstanding team at Holland Bloorview to create a more diverse and inclusive casting talent pool."
Click 
here
 to watch filmmaker Arshile Egoyan on Breakfast Television Toronto talking about this year's campaign and how he's supporting the movement.
Other signatories of the Dear Everybody Agreement this year include BMO, Capital One, CIBC, General Mills, The Globe and Mail, Reitmans, Roots, Scotiabank, TD and Toyota.
For more on the campaign, including information and resources to help end stigma, visit 
DearEverybody.ca
 and follow Holland Bloorview's social media channels.