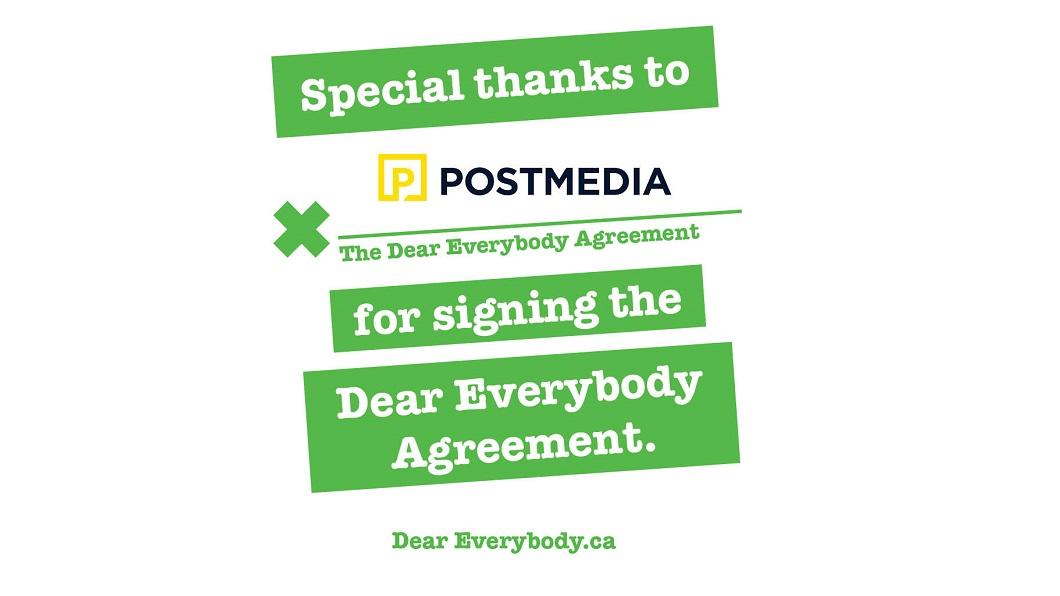 Holland Bloorview's Dear Everybody Agreement welcomes Postmedia as its latest signatory
The Canadian newsmedia company commits to disability inclusion
Postmedia, the Canadian newsmedia company representing more than 120 brands across multiple print, online, and mobile platforms, is the latest signatory in support of Holland Bloorview Kids Rehabilitation Hospital's Dear Everybody campaign. The anti-stigma campaign launched in 2017 to raise awareness around childhood disability and has expanded to advocate for disability representation in the media. Postmedia signed the Dear Everybody Agreement and will support the campaign through in-kind ad donations.
"With Postmedia keeping Canadians in the know through its many news platforms, we are thrilled to have them sign our Dear Everybody Agreement," said Sandra Hawken, president and CEO, Holland Bloorview Foundation. "Their storytelling has the ability to inform and inspire people across Canada and we can't wait to see how they will bring their commitment to the Dear Everybody Agreement to life."
"The inherent values of the Dear Everybody campaign are ones that we stand by as we deliver engaging content to millions of people every week," said Gillian Akai, Executive Vice President, Chief Administrative Officer and General Counsel, Postmedia. "We are energized to partner with Holland Bloorview in a meaningful way, especially for a campaign push this spring where our platforms will highlight the inclusive advertising of other Dear Everybody signatories."
Bell Media, BMO, Capital One, CBC, CIBC, General Mills, The Globe and Mail, the Government of Ontario, Reitmans, Rogers, Rogers Sports & Media, Roots, Scotiabank, TD and Toyota have also signed the Dear Everybody Agreement.
To learn about Dear Everybody and the role you can play in ending disability stigma, visit DearEverybody.ca and follow Holland Bloorview's social media channels.