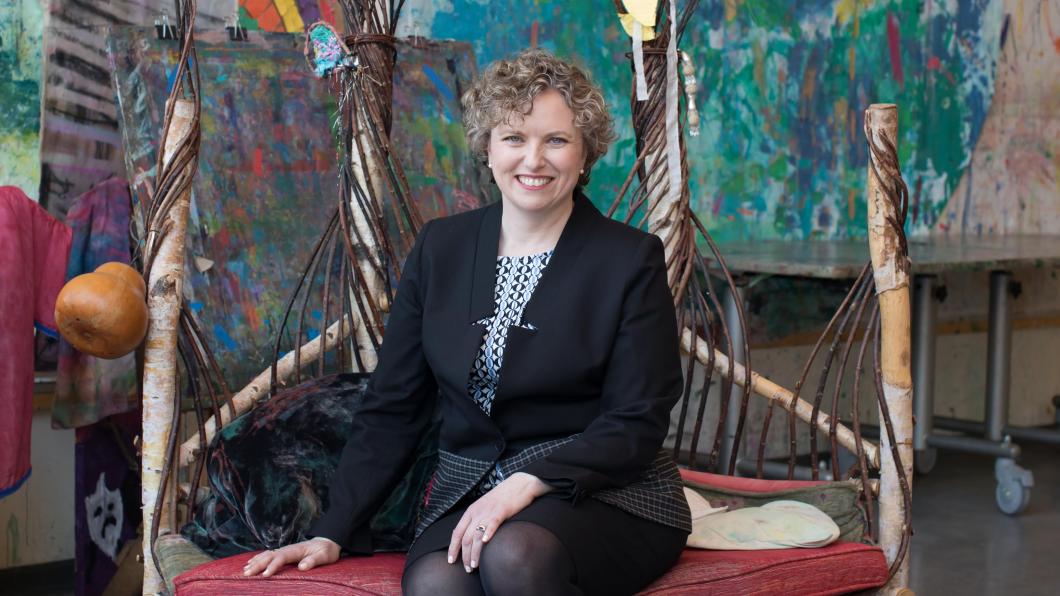 Julia Hanigsberg named one of Canada's 100 Most Powerful Women in 2019 by the Women's Executive Network
President and CEO of Toronto's Holland Bloorview Kids Rehabilitation Hospital is recognized for the second consecutive year.
TORONTO, ON (November 20, 2019) – For the second consecutive year, Julia Hanigsberg, president and CEO of Holland Bloorview Kids Rehabilitation Hospital (Holland Bloorview), has been named a Women's Executive Network (WXN) 2019 Canada's Most Powerful Women: Top 100 Award Winner, presented by KPMG. The list was released this afternoon, paying tribute to the outstanding women across Canada who have advocated for diversity in the workforce.

"It is an honour to join this year's group of outstanding women who are affecting meaningful change in our communities," said Hanigsberg. "Let's all continue to listen and learn from each other to build a limitless future for empowered and emerging female leaders."

Since becoming CEO in 2015, Hanigsberg has cemented and enhanced Holland Bloorview's role as a global leader in pediatric health care. Her achievements to date include: securing funding and partnerships to expand system capacity and serve the complex needs of Holland Bloorview clients; driving social justice for young people with disabilities through the groundbreaking Dear Everybody campaign; leading the $25 million expansion of the hospital's research institute; building a more coordinated system of care for children and their families through the co-founding of the Kids Health Alliance; and engaging the Holland Bloorview community through more than 1000 touchpoints in the development of a five-year strategic plan.

Hanigsberg previously served as vice president of administration and finance at Ryerson University and held many senior roles in the provincial government, including chief of staff to the Attorney General of Ontario.

"We are celebrating 110 of Canada's highest achieving women in fields ranging from arts and entertainment to sports and science," said Sherri Stevens, CEO, WXN. "All 110 winners exemplify power not through their standing or abilities, but rather through how they inspire, champion and empower others – which is why it's very important to recognize and celebrate their great achievements."

The Top 100 Awards span the private, public and not-for-profit sectors, with the initial candidates selected by WXN's Diversity Council. The final vetting process for the 2019 Top 100 Award Winners was completed by WXN's 2018-2019 Diversity Champions.

Past Award Winners includes Canada's most iconic women trailblazers: Margaret Atwood, best-selling author; Dr. Roberta Bondar, astronaut; Arlene Dickinson, chief executive officer, Venture Communications; Christine Magee, president, Sleep Country Canada; Michaëlle Jean, former governor general of Canada; Heather Reisman, founder and CEO, Indigo Books & Music; and Kathleen Taylor, chair of the board, Royal Bank of Canada.

To mark this year's awards, WXN is hosting an Awards Gala on November 21st at the Metro Toronto Convention Centre.  More than 1400 senior professionals will attend.

For a full list of winners, please visit https://wxnetwork.com/wxn/top100winners/.
 
---
About Holland Bloorview Kids Rehabilitation Hospital
Holland Bloorview Kids Rehabilitation Hospital creates a world of possibility by supporting children and youth living with disability, medical complexity, illness and injury. Holland Bloorview is a top 40 Canadian research hospital that is fully affiliated with the University of Toronto and serves over 7,500 families annually. Providing both inpatient and outpatient services, Holland Bloorview is renowned for its expertise in partnering with clients and families to provide exceptional care and is the only organization to ever achieve 100 per cent in two successive quality surveys by Accreditation Canada. Holland Bloorview is a founding member of Kids Health Alliance, a network of partners working to create a high quality, consistent and coordinated approach to pediatric health care that is centred around children, youth and their families. For more information or to donate, please visit hollandbloorview.ca or connect on Twitter, Facebook, Instagram, LinkedIn and parent-blog BLOOM.
 
---
About the Women's Executive Network (WXN)
Women's Executive Network (WXN), a member-based organization, exists for the advancement, development and recognition of professional women in Canada. WXN delivers this advancement through training, events, mentoring, networking, and award and recognition programs for members and partners. At WXN, equity, inclusion and the advancement of professional women make industry stronger and society better. Their passion is 100% centered on empowering women and creating positive social change. WXN currently operates in Canada and Ireland.
 
---
For media inquiries or to arrange an interview with Julia Hanigsberg or Sherri Stevens of WXN, please contact:
Ashley Cruz
Senior Media Relations Specialist, Holland Bloorview Kids Rehabilitation Hospital
647-406-3567
acruz@hollandbloorview.ca
Lee Deline
Director, Marketing & Communications, WXN
519-421-9556 ext. 216
ldeline@phasenyne.com