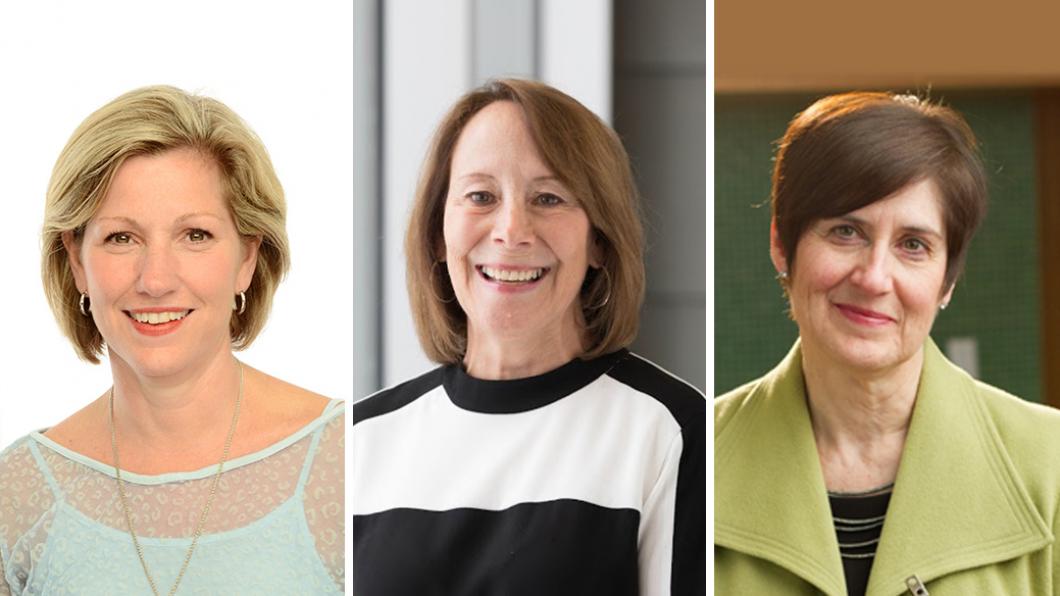 Irene Andress joins Holland Bloorview as new vice president, programs & services and chief nursing executive
Inaugural position key element of shift in executive leadership portfolios
Main photo from left to right: Irene Andress, vice president, programs & services and chief nursing executive (CNE), Diane Savage, vice president, experience and transformation, Marilyn Ballantyne, current chief nursing executive (CNE)
Holland Bloorview Kids Rehabilitation Hospital is pleased to welcome Irene Andress in the new role of vice president, programs & services and chief nursing executive (CNE). Andress' arrival coincides with the retirement of current CNE Marilyn Ballantyne and the creation of a new portfolio—vice president, experience and transformation—to be filled by Diane Savage, Holland Bloorview's current vice president, programs and services.
35 Years of Experience
Following an extensive pan-Canadian search involving a broad cross section of staff and family leadership at Holland Bloorview, Andress will join the hospital as vice president, programs and services and CNE. She has 35 years of healthcare experience, including 30 at Michael Garron Hospital (MGH), where she is currently vice president, patient experience, health professions & chief nursing executive.
Andress has demonstrated her passionate commitment to patients and families throughout her career. In addition, as an ardent voice for nursing and healthcare disciplines, Andress elevated practice standards locally and at the provincial level. Further, she highlighted the importance of a safe healthcare environment, making MGH one of the safest places to provide and receive care.
Andress has earned a reputation as a respected, trusted and dynamic leader. She has held many operational leadership positions including in the emergency department, maternal newborn child, organizational development and medicine. Andress has also been a leader in the Toronto Academic Health Science Network (TAHSN) as a TAHSN-practice co-chair and most recently as one of three co-chairs responsible for developing recommendations for the safe return of students to Toronto region hospitals.
One of Andress' greatest contributions has been her unwavering support of the next generation of healthcare leaders. She is a much sought-after mentee and teacher. Her guidance and knowledge can be seen in the number of individuals across the healthcare system, who have grown into their own healthcare leadership careers. She also continues to pass along her expertise as an instructor at the Bloomberg School of Nursing at the University of Toronto.
In her new position at Holland Bloorview, she will continue to advance integrated programs and services, support best quality care for children and families and empower integrated inter-professional teams through strength-based approaches.
Andress brings with her a dedication to compassionate care, quality and safety, data- and evidence-informed decision-making and a demonstrated commitment to nursing excellence. She will play a key role in propelling Holland Bloorview's reputation as an academic health sciences centre focused on children's rehabilitation.
New role: Vice president, experience and transformation
With Andress' arrival, 11-year Holland Bloorview senior leader, Diane Savage will move to her new role as the inaugural vice president, experience and transformation.
Since joining Holland Bloorview in 2009, Diane Savage has been a driving force in leading the evolution of holistic, strength-based rehabilitation programs and collaborative practice. This effort has been driven by an award-winning family leadership program, recognized for innovation in co-design of all aspects of care.
Savage will take executive leadership for patient experience and systems and community partnership development, building on her outstanding record of developing integrated, innovative programs to serve clients and families. Her portfolio will continue to embed client and family experience into everything Holland Bloorview does. This includes oversight of Holland Bloorview's recent commitment to and membership in Children's Hospitals Solutions for Patient Safety, designed to embed high reliability, quality, safety and performance into operations and organizational culture.
Reflecting her deep commitment to working across and within teams dedicated to excellence in care, Savage will partner with Andress in driving adoption of clinical best practices, standards of care and advancing collaborative inter-professional teams. This includes advancing clinical care through education, innovation and quality improvements. She will also have oversight of the transitions strategy and its implementation that includes system-leading youth employment, transition-to-adulthood programs and driving equitable health outcomes for all.
The creation of the two new roles is part of a structural realignment to advance:
the spread of leading practices for high-quality, personalized and connected care
the leveraging of knowledge and experience to impact the broader healthcare system
a workplace that is inclusive, compassionate and healthy.
In addition, the new leadership structure will exist in a broader framework of enhancing inclusion, diversity, equity and accessibility across Holland Bloorview, including the hospital's commitment to anti-racism.
Retirement of Marilyn Ballantyne, CNE
As Andress and Savage prepare for their new roles, Marilyn Ballantyne, current chief nursing executive for Holland Bloorview, will retire on September 30, following a storied 40-year career in pediatric care. 
Ballantyne began her career as a registered nurse in the neonatal intensive care unit (NICU) at SickKids. She left for Western Canada as a NICU transport nurse and a pediatric intensive care RN before returning to Toronto where she held a number of increasingly senior roles, including clinical educator, advanced practice nurse and nurse practitioner at SickKids. In all of her experiences, she honed her expertise in advancing pediatric acute, outpatient and rehabilitation care. She joined Holland Bloorview in October 2014.
Under Ballantyne's leadership, strengths-based nursing has flourished. Among her achievements: the hosting of a first ever Holland Bloorview nursing summit; the implementation of a nursing vision; introducing the DAISY Awards that recognize nurses and their impact in the lives of children and families; successfully integrating nurse practitioners throughout the organization, and facilitating the growth, autonomy and leadership of the Nursing Practice Council. Ballantyne has been a systems leader at the Toronto Academic Health Science Network (TAHSN)-practice table, at the Connected Care Steering Committee and with our community partner Safehaven, helping develop better programs for increasingly medically complex children both at Holland Bloorview and in the community.
On top of her clinical expertise, Ballantyne brought a passion for research, teaching and learning to faculty positions at McMaster University, Ryerson University and the University of Toronto. She has authored 40 papers on a variety of topics, including family experience with transition and appointment-keeping (missed opportunities for care), and health services for children born preterm, with medical complexity, cerebral palsy and developmental disability.
Holland Bloorview extends a warm welcome to Irene Andress, congratulates Diane Savage on her new role and sends a huge note of appreciation and thanks to Marilyn Ballantyne as she enters her next chapter.