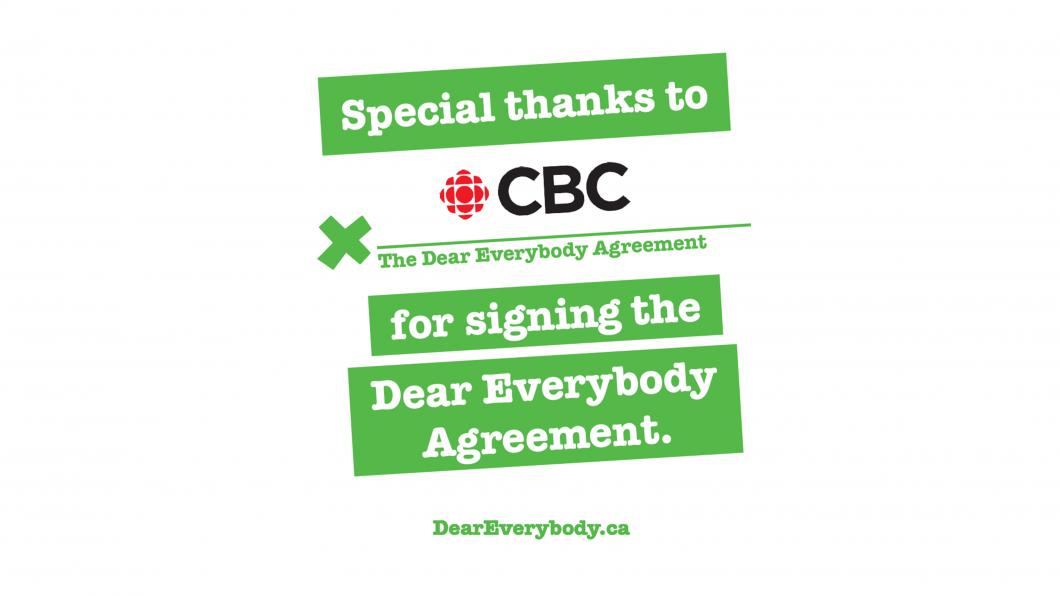 Holland Bloorview's Dear Everybody Agreement signed by CBC
Canada's national public broadcaster vows to support disability inclusion.
As Holland Bloorview Kids Rehabilitation Hospital's Dear Everybody campaign kicks off its fourth year, another outlet has committed to support the movement by increasing disability representation in the media. CBC, Canada's national public broadcaster, has signed the campaign's Agreement. Dear Everybody endeavours to end disability stigma, specifically for kids and youth, and the Agreement is the signatory's pledge to create a more inclusive media landscape.
The Dear Everybody pledge furthers CBC's commitment to champion engagement and inclusion across all areas including the CAPE program, which is now in its third year of providing paid placement opportunities for people with disabilities across the organization. CBC also works to reflect the rich diversity of Canada through original storytelling on all platforms, including a number of programs representing those with disabilities such as You Can't Ask That, Unlocking Bryson's Brain and CBC Sports' ongoing priority coverage of Para sports.
"It is with great pleasure that I announce CBC as a signatory of the Dear Everybody Agreement. They are a keystone in Canadian media, and their commitment to bring people with disabilities into the picture will undoubtedly encourage others to do the same," said Sandra Hawken, president and CEO, Holland Bloorview Foundation. "Fair representation of people with disabilities is our mission, and this partnership with CBC will catapult us toward that objective. We are thrilled to partner with CBC."
"We strive to reflect the full diversity of our country in all aspects of our work, so that every Canadian can see themselves in their national public broadcaster," said Nick Davis, Director of Engagement and Inclusion, CBC. "Increasing representation of people with disabilities is part of our commitment, and we are proud to support the Dear Everybody movement to help build a more inclusive media space for all."
The campaign officially launched its fourth iteration on August 31. Other signatories of the Dear Everybody Agreement include BMO, Capital One, CIBC, General Mills, The Globe and Mail, Reitmans, Rogers, Rogers Sports & Media, Roots, Scotiabank, TD and Toyota.
Follow Holland Bloorview's social media channels and visit DearEverybody.ca for more on the campaign, including information and resources to help end stigma.