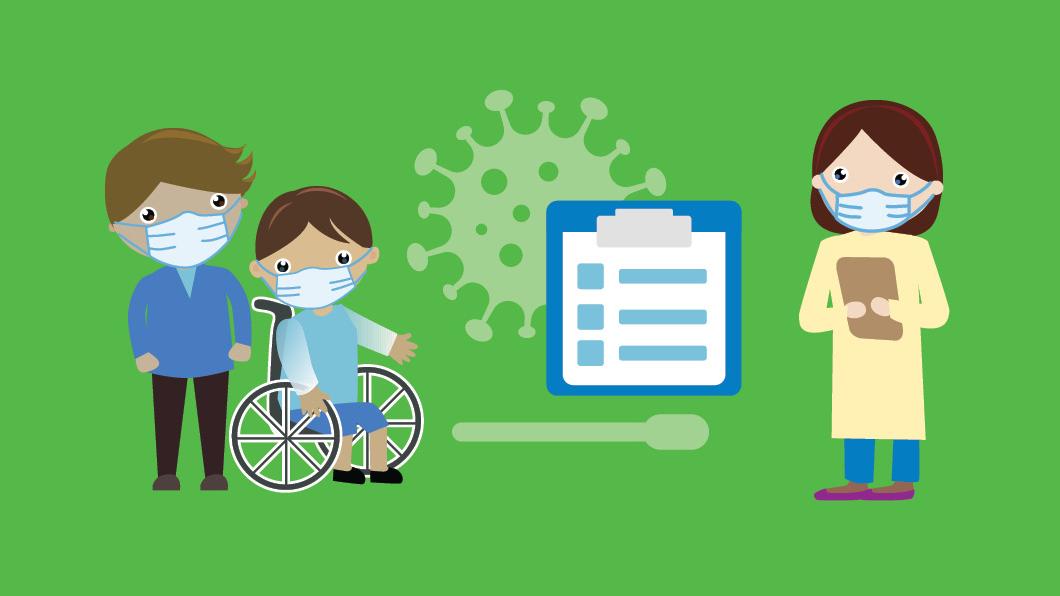 Holland Bloorview and SickKids launch COVID-19 testing sites for children with medical complexity, developmental conditions
Testing available starting December 14, 2020
**Updated Dec. 23, 2021**
** Due to increased demand for COVID-19 testing, there are currently limited appointments available. Please check with your local pediatric hospital as well.**
Holland Bloorview Kids Rehabilitation Hospital (Holland Bloorview) and the Hospital for Sick Children (SickKids) are joining forces to make COVID-19 testing for children with medical complexity and children with developmental conditions more convenient and less stressful for them and their families.
Starting Dec. 14, the new collaboration between two preeminent paediatric hospitals will offer COVID-19 testing at two sites through one centralized point of contact. The goal: supporting a population in need of specialized care while building capacity within the provincial health system. The new testing sites are being supported by Ontario Health.
The challenges children with medical complexity and developmental conditions, such as Autism Spectrum Disorder (ASD) or cerebral palsy, often face with obtaining routine health care are heightened because of the pandemic. COVID-19 testing can be especially uncomfortable and difficult for a child with special health-care needs, and staff at Holland Bloorview and SickKIds have the skill and expertise to safely collect the samples for testing. In addition, to better meet the needs of this group of children and families, the new COVID-19 testing sites will provide timely and convenient access to paediatric resources and accommodations for mobility, communication, behavioural and other specialized health-care needs at the time of testing.    
"This combined effort between our two organizations will help remove barriers to COVID-19 testing for children, youth and families who require a specialized approach that our hospitals are equipped to provide and fill a growing need in the community," says Judy Van Clieaf, vice-president, clinical, and chief nursing officer, SickKids.
"Our in-house expertise uniquely positions our centres to deliver safe, accessible and comfortable testing in a child-friendly environment for children and youth with medical complexity and developmental conditions and their families," says Diane Savage, vice-president, experience and transformation, Holland Bloorview.
 The complementary nature of the collaboration between Holland Bloorview and SickKids means more choice for children and youth with medical complexity and developmental conditions, and their families, in the following ways:
Book an appointment by calling one central number: 416-419-4623. The line is open Mondays to Saturdays, from 8 a.m. to 4 p.m. and staffed by Holland Bloorview staff. (Note: on Tuesdays, the line is open from 8 a.m. to 8 p.m.)
 
The options for testing are at a downtown (SickKids) location during daytime hours (Monday to Friday and Sunday, 8 a.m. to 4 p.m.) or uptown (Holland Bloorview) three weekday nights (Mondays, Wednesdays, Thursdays, 5 p.m. to 7 p.m.) and Saturdays, 9 a.m. to 4 p.m.
 
Having the testing swab taken inside the vehicle or tent outside (SickKids) or in an indoor setting (Holland Bloorview).
 
Health-care providers at either site may also provide a referral to the Local Health Integration Network to coordinate in-home testing if deemed necessary. Call the above number first and the staff will let you know how to proceed.
---
For the latest information about coming to SickKids or Holland Bloorview, please visit our websites: