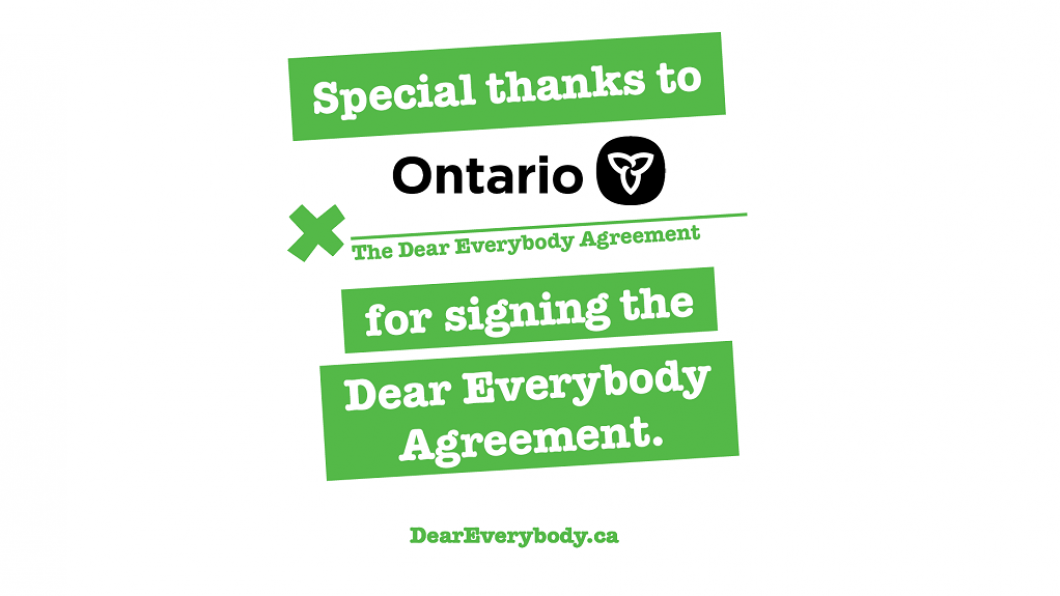 Government of Ontario signs Holland Bloorview Dear Everybody Agreement, committing to including disability in the government advertising
Toronto, ON (October 2, 2020) – Today, the Ontario government has signed the Holland Bloorview Kids Rehabilitation Hospital Dear Everybody Agreement, thereby committing to include people with disabilities in marketing and advertising materials produced and distributed by the province. In Canada, 22% of the population lives with a disability and Holland Bloorview Kids Rehabilitation Hospital (Holland Bloorview) is on a mission to ensure more accurate and authentic representation of people with disabilities in media images across the country.
"There is a great diversity of people in our province and it is the Government of Ontario's responsibility to make sure they see themselves in all that we do," said Premier Doug Ford. "We thank Holland Bloorview for leading this effort and we are thrilled to put our names on the Dear Everybody Agreement and doing our part to include disability in the picture. We invite everyone in Ontario to sign the agreement to show your support for this important movement."
Premier Ford was joined by Deputy Premier and Minister of Health Christine Elliot, Rod Phillips, Minister of Finance, Todd Smith, Minister of Children, Community and Social Services, Stephen Lecce, Minister of Education and Raymond Cho, Minister of Seniors and Accessibility in signing the Agreement.
"Conversations about diverse and inclusive representation are on the front burner and we want to make sure that people living with disabilities are included," said Julia Hanigsberg, President and CEO, Holland Bloorview Kids Rehabilitation Hospital. "The commitment made by the Ontario Government today is an important step toward ending disability stigma and will go a long way toward ensuring kids and youth with disabilities see themselves as valuable members of our society. We are very grateful for the provincial government's support in our efforts to change the media landscape."
About Dear Everybody
Dear Everybody is a national movement to end stigma for kids and youth with disabilities. Holland Bloorview first launched the campaign in 2017 and it is now in its fourth year. The campaign was designed in partnership with Holland Bloorview's clients and families, whose words and images are central to the campaign.
As part of Dear Everybody's evolution, in 2019, the campaign launched the Dear Everybody Agreement, calling on Canadians to show their support for a more inclusive media landscape. In tandem, the Dear Everybody Agreement was also created which calls on brands and organizations across the country to commit to including people living with disabilities in the images they create. To date, over 40 brands and creative suppliers have signed the agreement, including iconic Canadian names such as Roots, CIBC, and the CBC.