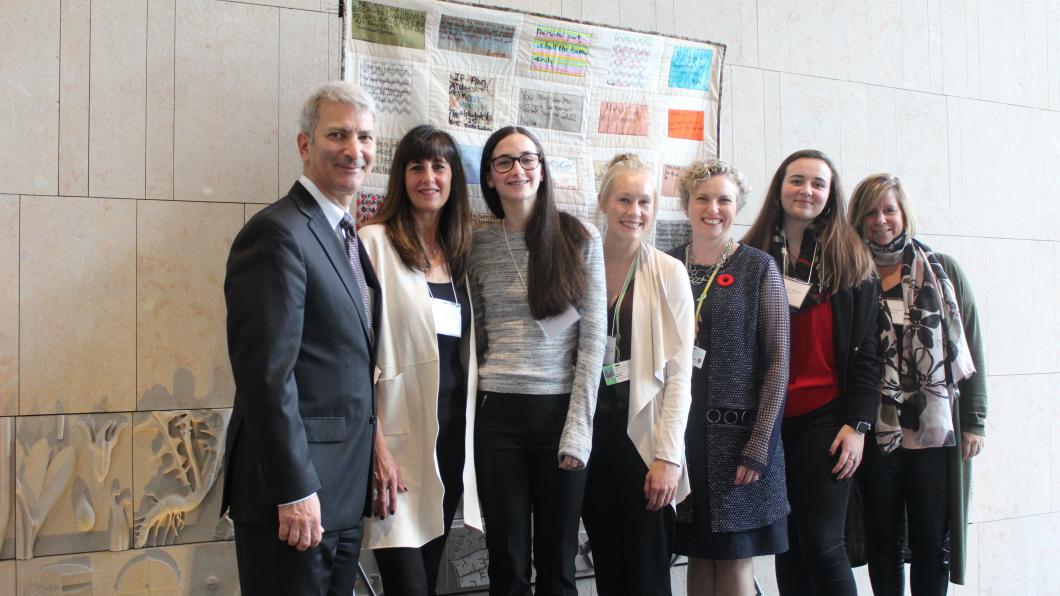 First-in-Canada paediatric pain program celebrates two years of helping youth get back to their best and heathiest lives.
Photo: (L to R) Dr. Michael Apkon, President and CEO, The Hospital for Sick Children (SickKids); Shelley Berman, parent; Staci Berman, client; Susie Mallory, Get Up and Go Therapeutic Recreation Specialist; Julia Hanigsberg, President and CEO, Holland Bloorview Kids Rehabilitation Hospital; Lauryn Seguin, client; and Jodi Seguin, parent.
Chronic pain in children and youth is a growing issue in Canada. Between 11 to 38 per cent of children and adolescents will suffer from chronic pain, and approximately 5 to 8 per cent of these young people will develop a significant pain-related disability. This can lead to social isolation, poor school attendance, sleep disruptions, and emotional and financial stress for whole families.
The Get Up and Go (GUAG): Persistent Paediatric Pain Service, developed in partnership between Holland Bloorview Kids Rehabilitation Hospital and The Hospital for Sick Children (SickKids), has been helping youth with chronic pain get back to living their best and healthiest lives for the past two years.
Get Up and Go client Staci Berman spoke at a celebratory event at Holland Bloorview on November 9 and shared how the program changed her life story from one of hurt to one of healing. Staci was injured in a basketball tournament when she was 11 years old and after struggling with chronic pain for years, credits the GUAG team for helping her rebuild not only physically, but mentally. Read more about Staci's journey in our BLOOM blog.
GUAG is the first paediatric pain program in Canada to offer an inpatient component in addition to outpatient services and support youth who have not been able to manage their chronic pain through other programs. With the creation of GUAG, youth with persistent chronic pain no longer need to travel to the United States to receive this type of intensive and highly-specialized service.
The program team members work closely with each other and in partnership with clients to help them improve their day-to-day functioning, increase strength and mental wellbeing, develop coping strategies, and return to social and school activities. Clients are referred to the program through paediatric pain clinics across the province.
At the celebration, Jodi Seguin also shared how the program team not only helped transform her daughter Lauryn's life, but also supported her as a parent and gave her tools and resources to support her daughter.
Staci and Jodi joined other GUAG clients and their families, Holland Bloorview President and CEO Julia Hanigsberg, SickKids President and CEO Dr. Michael Apkon, the GUAG team, representatives from the Ministry of Health and Long-Term Care, and members of the wider chronic pain network community and referring clinics at the celebration.
Get Up and Go is generously supported by the Ministry of Health and Long-Term Care, which has more than doubled the program's funding since it was launched in 2015 enabling the program team to enhance the services in this intensive, four-week program. Nearly 50 clients have participated in the program to date, and the program team aims to support just over 50 participants every year moving forward, helping them created pathways to healthy futures.