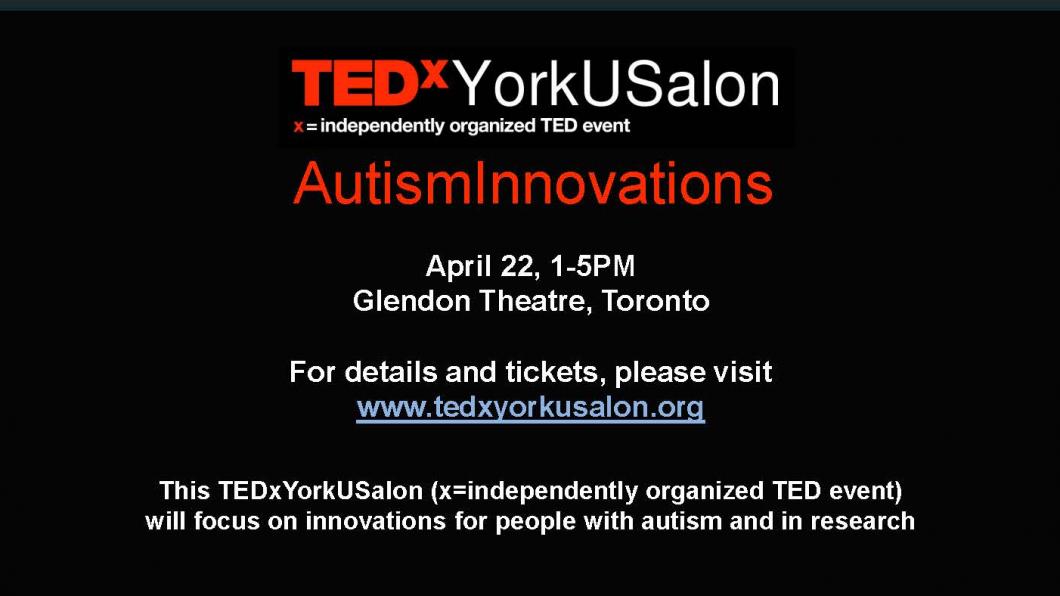 Autism Innovations at TEDxYorkUSalon on April 22
On Saturday, April 22, join Drs. Evdokia Anagnostou, Azadeh Kushki, and Jessica Brian at the second TEDxYorkUSalon as they speak about innovations and research in autism spectrum disorder (ASD).This event will host a series of 10-minute talks to showcase innovative research related to ASD and the impact and potential of ASD research on contributing to an inclusive future.
Dr. Anagnostou is a senior clinician scientist at Holland Bloorview, whose research focuses on multiple factors including genetics, neuroscience, and behaviour to better understand the biology of ASD.
Dr. Kushki is a senior clinical study investigator who innovates and designs new technologies for kids and youth with ASD, such as the Anxiety Meter that measures anxiety levels to empower self-awareness.
Dr. Brian is a clinical investigator and co-developer behind the Social ABCs, and whose work focuses on the early identification and intervention of ASD.
TEDxYorkUSalons talks provide a forum for ideas within the Canadian autism community. In this Salon, four TEDx speakers will partake in discussions that will be put online following the event. After the Salon portion, there will be 3-minute – "lightning" – talks by a dozen researchers in the ASD field who will showcase innovative research related to autism.
Made possible by York University's 'Chair in Autism Spectrum Disorders Treatment and Care Research' research group and TEDxYorkU, the event focuses on innovations for people with autism within their community and in research.
For details and tickets, please visit TEDxYorkUSalon.