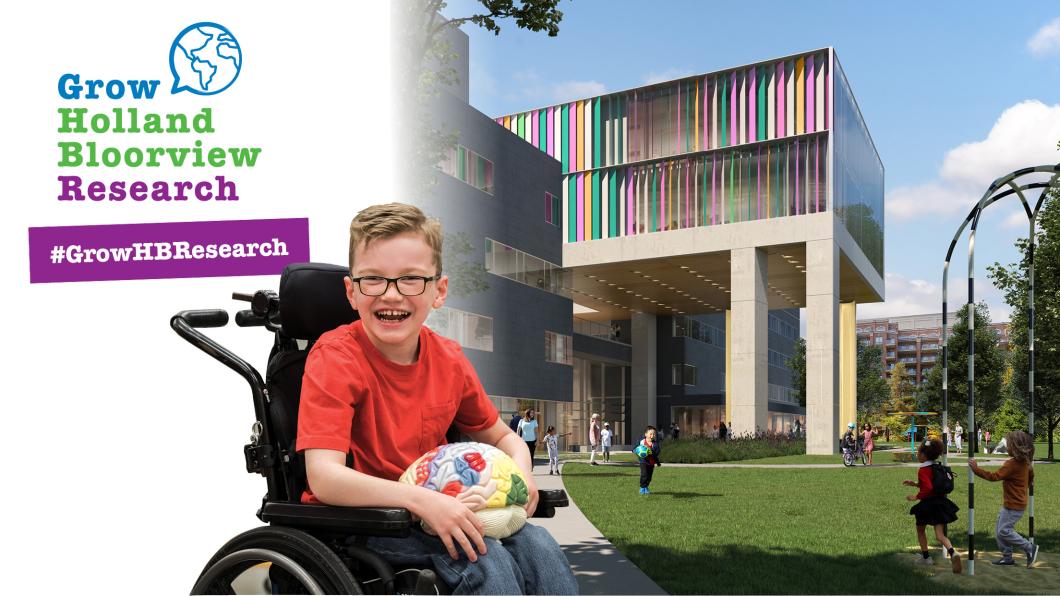 $32 million goal achieved for Bloorview Research Institute expansion
Holland Bloorview Kids Rehabilitation Hospital Foundation reaches its $32-million fundraising goal.
Toronto, ON – Three years since the Grow Holland Bloorview Research campaign launched, Holland Bloorview Kids Rehabilitation Hospital (Holland Bloorview) Foundation is excited to announce the achievement of its $32-million fundraising goal.
Thanks to the generosity of our donors, the teams at the Bloorview Research Institute (BRI), embedded within Holland Bloorview hospital, can continue to revolutionize and positively impact the world of pediatric disability research.
Holland Bloorview thanks all the donors who have contributed to this impactful campaign.
$5,000,000 - $14,999,999
Jason Smith
Heather Smith
FDC Foundation
$1,000,000 - $4,999,999
Raymond Chang Foundation
Anonymous
The Azrieli Foundation
TD Bank Group
Ali Ebrahim
Tim Close & Lindsay Holtz, Damian's Campaign
The Kimel Family
Janis Rotman
BMO Financial Group
$500,000 - $999,999
Neil & Chrisula Selfe
The Mayvon Foundation
New Hope Foundation
Scotiabank
The Cadillac Fairview Corporation Ltd.
$250,000 - $499,999
The Lawrence Schafer Foundation
The Tawse Family Charitable Foundation
XIB Financial/Sean McNulty
Dottori-Attanasio Family
$100,000 - $249,999
REMAD Foundation
CIBC
The Lillian Meighen and Don Wright Foundation
Michael Young
The Robert and Flora Courteau Foundation
Som and Kerry Seif
Robin and Barbara White
Ontario Federation for Cerebral Palsy
Dr. Tom & Grace Chau
James & Katie Salem
Gregory Steers
Jean Lam and Paul Ostrander
Wesley Roitman and Lisa Nemiroff
Lawyers for Possibility
 
Thanks to their support, these gifts will aid the BRI in its mission to become the premier centre for child and youth science research globally, while driving cutting-edge discoveries. And in In recognition of the Smith family's generosity and fundraising, the research tower will be named in their honour.
Thanks to the generosity of our donors, the BRI will:
Recruit top scientific talent;
Build an 11,000 square foot building expansion—the largest in the organization's history;
Create new discovery hubs that will house state-of-the-art equipment;
Accelerate the commercialization activity of our discoveries and technologies
House Canada's first child-friendly, fully customizable and accessible research MRI
The BRI is poised to have the highest concentration of childhood disability research in the world.
Together, we can create a world of possibility for kids and youth with disabilities—within our walls and beyond.
About Holland Bloorview Kids Rehabilitation Hospital Foundation 
At Holland Bloorview we believe in creating a world where all youth and children belong. We are the only children's rehabilitation hospital in Canada focused on combining world-class care, transformational research, and academic leadership in the field of pediatric disability. Each year we help over 8000 kids and youth with disabilities and complex medical needs access care that focuses on their physical, mental, and emotional well-being, and we power their infinite potential and possibility.
Together we dream big. Together we champion a world of possibility.