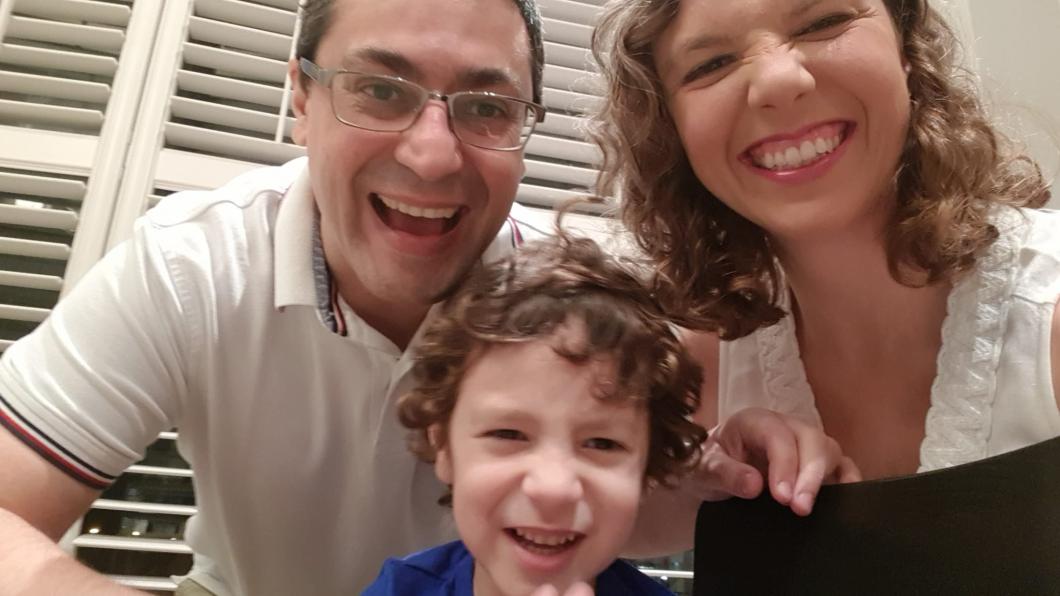 Link to autistic community helps this family thrive
Photo of Giseli Bignardi (right) with husband Rodolfo and son Cauã.

By Louise Kinross
Giseli Bignardi felt like a piece of her died when her son Cauã was diagnosed with autism at Holland Bloorview. But not for the reason you may think.
"I realized I had fed the ableism in society," she says, recalling her time working as a nurse practitioner in Brazil, before immigrating to Canada with her family in 2018. "I felt like I had failed inside the health system in my own country, because I should have done better as a nurse practitioner and as a person. Instead of truly advocating for a patient or family, I hid behind protocols."
Giseli says volunteering as a family leader at our hospital to share her story "is part of my healing process." Her message to health professionals? "Stop pretending that books and professors and the institution where you got your degree know everything, because they don't. Connect with autistic people and allow yourself to be in their shoes and understand that things will not be scripted in the way you were taught at school. People cannot fit inside any box. Most health professionals don't have close relationships with autistic people. This needs to be part of their training and work environment."
In trying to understand her son, Giseli first researched autism from an academic perspective, taking courses, she says. "I talked to professionals and I opened my heart to really understand them. I went along the main path of how autism is treated, and then I began to see that certain things weren't working for Cauã."
An example was in his small kindergarten class tailored to students with autism at a local school in Markham. "The staff are really good, but some of the ideas behind applied behaviour analysis (ABA) are not okay," Giseli says. Cauã, who is now six, "is very active, he's jumping and smiling and climbing and very sensory, and he needs movement incorporated into his learning," Giseli says. "But they were wanting to reward him with a token for sitting down and being quiet. That destroys everything."
Giseli says the greatest challenge of settling in Ontario with an autistic child has been advocating for approaches that blend academic and firsthand autistic knowledge. "When I began to see certain things not working for Cauã, I went deep into the autistic community. I joined groups that were run by autistic people and read books and magazines. I listened to autistic people talk about Individual Education Plans (IEPs) and Individual Placement Review Committees (IPRCs) and everything. The pathway I will be going on is to meet my child's needs with whatever works for him and he's comfortable with."
When Giseli shared what she was learning, education staff dismissed it, or didn't follow through. "I got the feeling that they don't see autistic experiences as valid. Or they assume it doesn't apply to my son, because he's non-verbal."
Early on during the pandemic lockdown, Giseli used funding from the Ontario Autism Program to get Cauã speech-language training on a voice device and to set up a sensory clinic in her home. "I built a playground, I had sinks for Cauã and tents and all of these sensory things and lights. I watched so many virtual workshops from Holland Bloorview and other centres to learn how to work with him."
But when he began in-person school and she shared her strategies, they weren't applied consistently. "I've been told that what works at home is different from school. When we talk about an adaptation or even a modification, it's seen as a luxury. I'm told it's a public system and we're not paid enough, or we have other kids to support." Giseli felt she was put in a position of having to allow her son to have a meltdown for 30 to 40 minutes at school to prove to staff that their methods weren't helping.
Because many professionals don't have ongoing contact with autistic people, "they don't know what I know," she says. "So when I feel like I'm struggling with something, they can't answer me." She often feels she needs to ground a strategy she's proposing in knowledge from a hospital like Holland Bloorview. "When you say you've learned something from an autistic person, they want to hear that the learning came from inside the health system. The autistic person is not the knowledgeable one, and you, as a mother living 24-7 with your child, is not the expert, even though they say you are."
Cauã is now in a regular Grade 1 class. "During the first interview between teachers and parents at school, Cauã showed us the class picture, and he wasn't in it," she says. "They had set up a studio to take photos in the school, and Cauã wasn't comfortable going in there. Why doesn't the photographer go to a place where Cauã feels comfortable? You know when you go to a home and it has a sign up that says 'Welcome?' I feel like the sign for us is 'Get out.'"
Giseli and her family initially moved from an apartment in Toronto to the suburbs because neighbours complained about, and made fun of, her son's noises.
She says that while autism and disability are more stigmatized in Brazil than Canada, there is a similar level of ableism in both countries. "Sometimes I decided not to be part of parent groups here because they talked about mourning their child, and that made me feel bad. I never mourned my son's diagnosis. It was a relief when I knew."
Giseli likes the Canadian focus on research and involving children and adults with disabilities in it.
In learning about Cauã's needs, Giseli said she came to the realization that she is autistic too. "My parents say I didn't speak until I was five, but girls at that time were not thought to be autistic. They took me to a psychologist, and were told I was very literal, and needed to be trained to read social cues around me.'
As a child, Giseli adored cartoons. "I loved Goofy and Donald Duck. With them I could understand emotions and feelings, because their reactions were literal."
In social situations, she tried to model her behaviour on other children. "I would see who was behaving okay in the group, and pick that person," she recalls. "But then I would add something from myself because I know I cannot do everything right, and I don't want someone telling me I'm copying. I also sometimes used chains of sentences and expressions I had heard in movies and on TV to communicate with others. I've done this masking forever, and I know how much it drains me. So I'm trying my hardest to stop."
Giseli hasn't been formally diagnosed yet because of the cost of the assessment. 
Growing up, Giseli was often told she was lazy or rude because she struggled with social interactions. "How can you not know how to do that, when other things are so easy for you?" she'd be asked. "I suffered a lot of bullying at school. I've always been way too literal. Take 'happy hour.' Why would I suddenly be nice with someone I don't know just because it's happy hour?' So many times I was told I was speaking rudely because I said what I thought."
Today, Giseli's son Cauã loves the world of space, oceans and extra-terrestrial creatures. "He's into scary stuff. Using play dough or painting or drawing he will create these creatures that are so full of detail. His favourite ocean creature is the octopus. Maybe he sees something that happened, like in a Tom Cruise movie, and he wants to make it. He loves trampoline, climbing and sensory things."
Cauã is highly caring, Giseli says. "If he sees anything wrong on you, he's going to say 'bandaid' and he's going to go and take care of you and give you a kiss. For me, he's amazing."
Giseli says her firsthand experience with autism informs her parenting. "One-hundred per cent," she says. "I try my best to protect him from everything I faced, because he needs to have his own experiences. I try to provide tools for him so he's going to be able to develop his own way of dealing with stuff. I try my best to separate us. And at the same time, I don't, because he's going to face everything and the biggest difference with me is I didn't know the names of things. I didn't know about bias and ableism. I didn't know about this idea of difference and equity in the way I understand it today. I can teach him those things and I can educate people so they don't act out of ignorance."
Giseli says Cauã has been her greatest teacher. "He makes me a better person. All my bias, he literally makes me switch and change."
Here are some of Giseli's favourite autistic resources: The Reason I Jump; Wiggles Stomps, and Squeezes Calm My Jitters Down; Neuroclastic; Autism and Nonbinary Women Network; and Autistic Allies.
Like this story? Sign up for our monthly BLOOM e-letter. You'll get family stories and expert advice on raising children with disabilities; interviews with activists, clinicians and researchers; and disability news.