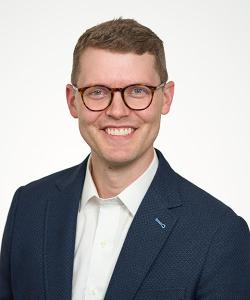 Timothy Ross, PhD
Scientist
Research
Research Focus:
Dr. Ross explores experiences of disability and ways to advance more accessible, inclusive, and diverse communities. Four key research topics that he engages are: (1) education access, (2) transportation and mobility, (3) inclusive play, and (4) institutional ableism. Questions about ableism and its normalcy within the planning and design of our built environments, services, and systems are central to Dr. Ross' research.
Research/Trainee/Volunteer Opportunities:
Currently accepting graduate students
---
Education & Profession
Education:
Postdoctoral Fellowship, University of Toronto, Toronto, Canada
PhD (Planning), University of Toronto, Toronto, Canada
MES (Planning), York University, Toronto, Canada
MA (Sociology), University of New Brunswick, Fredericton, Canada
BA (Sociology and History), St. Francis Xavier University, Antigonish, Canada
Professional Memberships:
Registered Professional Planner, Ontario, Canada
Member, Ontario Professional Planners Institute
Member, Canadian Institute of Planners
University Positions/Affiliations:
Assistant Professor (Status Only), Department of Geography and Planning, University of Toronto
Associate Graduate Faculty Member, Department of Geography and Planning, University of Toronto
---
Current Projects
Play Finds a Way through Inclusive Playgrounds
Getting to School: How Families Living with Childhood Disability Experience Everyday School Travel
Air Travel and Childhood Disability Study
Exploring the Housing Experiences and Community Participation of Individuals with Developmental Disabilities
---
Publications
Refereed
Non-Refereed
Ross, T. and R. Buliung. In press. "Thinking about Ableism and Third Place to Understand and Improve the School Journeys of Disabled Children and their Families." In The School Journey as a Third Place. Interdisciplinarity, Transformations and Experiences from Around the World. Eds. Moody, Zoe, Berchtold-Sedooka, Ayuko, Darbellay, Frédéric, Camponovo, Sara, and Philip D. Jaffé. Anthem Press.
Ross, T. (2019). "Inclusive Research Design: Accounting for Childhood Disability in School Transportation Research." Pp. 273-293 in Waygood, O., Friman, M., Mitra, R., and L. Olsson (Eds.). Transport and Children's Well-Being. Elsevier.
Biggar, J., Ross, T., and J. Mah. 2017. "Connecting Planning Scholars and Practitioners." Ontario Planning Journal, 32(4): 19.
---
Contact Info
Contact Information:
Bloorview Research Institute
Holland Bloorview Kids Rehabilitation Hospital 
150 Kilgour Road Toronto, Ontario M4G 1R8 
Tel: 416-425-6220, extension 3554
Contact Email:
tross@hollandbloorview.ca
---
Media Expertise
access to education, inclusive play, transportation, combatting ableism