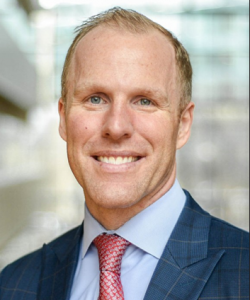 David Bushnell
Senior Vice President, Advisor Distribution Fidelity Investments
David Bushnell is Senior Vice President, Advisor Distribution, at FIC. He is responsible for the sale and distribution of Fidelity's mutual funds, ETFs and high net-worth solutions to the full-service brokerage, financial planning, and branch advice channels across Canada.
He is also has responsibility for Fidelity's National Accounts group, which manages the firm's head office relationships with the major brokerage firms, financial planning dealerships and credit unions. David is a member of Fidelity Canada's Senior Executive Team.
David joined Fidelity as an Inside Wholesaler in 2005. He became a Wholesaler in 2007 and was promoted to Regional Vice President in 2013. In 2020, he became a member of Fidelity Canada's Senior Executive Team as the SVP, Head of Marketing. He was promoted to his current role as SVP, Advisor Distribution in 2021.
David holds a Bachelor of Arts from the University of Western Ontario and an MBA from Ivey School of Business.