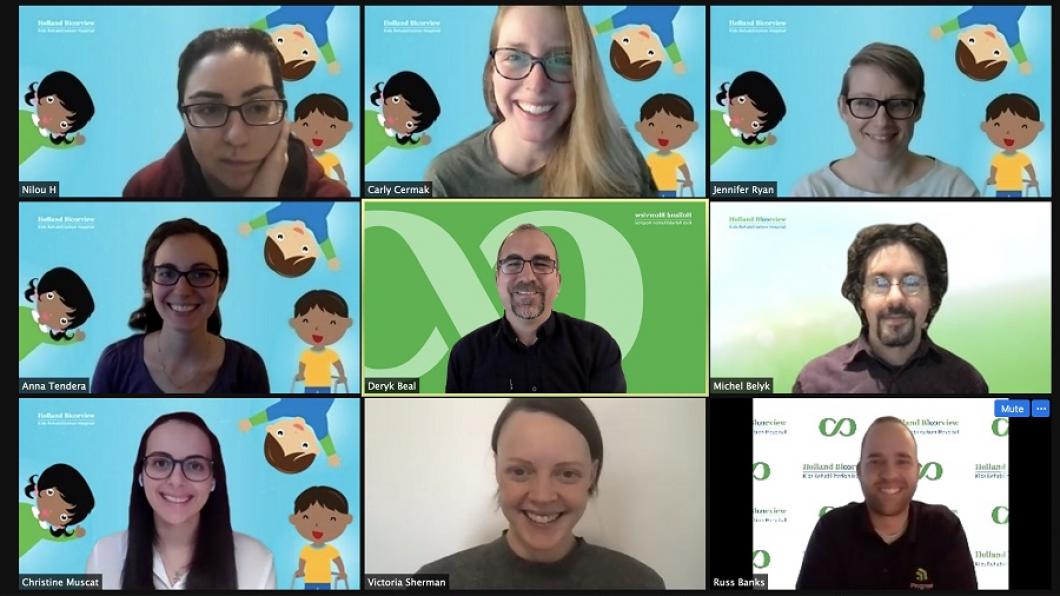 Paying it forward
Dr. Deryk Beal is awarded a Faculty of Medicine Graduate Teaching Award for his commitment to mentoring and coaching future scientists
Dr. Deryk Beal knows what it means to pay it forward. Early on in his career as a speech- language pathologist, he was working directly with children with pediatric neuro communication disorders. But he had questions, bigger research questions that were beginning to form in the back of his mind.
Through a clinician-scientist training program at the Hospital for Sick Children, key mentors guided Dr. Beal's career path from clinical work on the front lines towards the study of pediatric communication and its disorders. These mentors from Sick Kids included his PhD advisor Luc De Nil, who was a speech language pathologist himself, Dr. Eric Bouffet, a pediatric neuro-oncologist and Dr. Don Mabbott, who was a neuropsychologist during Dr. Beal's time in the training program.
 "I was so lucky to identify the mentors who were able to give me the mentorship I needed to understand the science and how the scientific world works," says Dr. Beal, who is also an assistant professor in the Department of Speech-Language Pathology at the University of Toronto. "I see [mentorship] as being on a ladder and reaching down on the rungs to pull somebody up to join me."
And now as a clinician-scientist leading the CONNECT Lab at BRI, Dr. Beal has been passing on his expertise and experience to his trainees for the past five years since he joined BRI in November 2015. His research program aims to understand the neurobiology of communication, and to develop and evaluate new treatments for childhood brain-based speech and language disorders.
Indeed, the clinician-scientist has helped numerous trainees – master's students, post-doctoral fellows, and PhD candidates – all who have come to the BRI with so much rich experience, but whose research careers have become more enriched because of Dr. Beal's ability to empower his trainees to reach their full research potential in countless ways.
In recognition of his selfless dedication to his students to "bring them up the ladder to join him," Dr. Beal has been awarded a 2020-2021 Faculty of Medicine Graduate Teaching Award for Early Career Excellence in Graduate Teaching and Mentorship.
In a letter to Dr. Beal from Dr. Reinhart Reithmeier, Interim Vice-Dean Research and Innovation at the University of Toronto's Temerty Faculty of Medicine and chair of the Faculty of Medicine Graduate Awards Committee, he said, "Dr. Beal's many wonderful and heartfelt nominating letters from students and colleagues convincingly described his extraordinary contributions to graduate education." He also added that, "Dr. Beal's students praised him for his "reachability" and support during the COVID-19 pandemic" and that "during the times of uncertainty, Dr. Beal's patience and understanding was a great comfort … always knew that he was a zoom call away in an event of an emergency."
The award is one of three annual graduate faculty teaching awards to honour and celebrate outstanding contributions to graduate education. Previous Graduate Faculty Teaching Awards recipients from the BRI include Dr. Tom Chau and Dr. Barbara Gibson.
"I am fortunate to be a part of the BRI and U of T, who collectively made it very easy to recruit some of the strongest graduate students and post docs in the world," says Dr. Beal. "Tom [Chau]'s leadership and his support has enabled me to follow my instincts in choosing the most talented trainees who are just as invested as the BRI is in client-and family centred research in child disability."
What does he wish to impart on his trainees as they leave BRI to launch their own research careers? There are countless things, says Dr. Beal, but one of the most important lessons is this: "Practicing good science is not just understanding the research literature and applying it to what we do. We also have to think about the treatments we develop in the context of clients and families as well as clinicians."
Carly Cermak, one of the trainees who nominated Dr. Beal for the award, met the clinician-scientist five years ago to discuss the idea of leaving her full-time clinical work in speech language pathology to pursue a PhD degree with the CONNECT LAB.
Now, five years later, she is a PhD graduate. "Deryk demonstrated patience and understanding with my hesitancy to switch career paths, authentically expressing a similar path to get him to where he is today," she wrote in her nomination letter. "He made certain I knew the value of my clinical experience and its unique insight that it brings to research."
The recipients of the awards will be honoured on the Temerty Medicine awards website and will receive a certificate from the Office of the Education Deans at the University of Toronto.