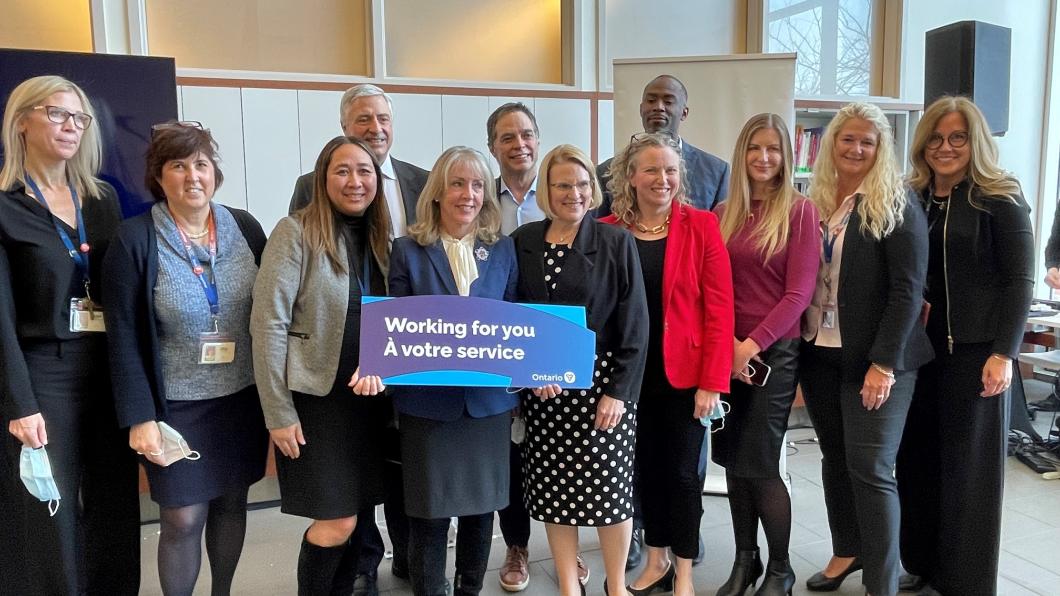 Ontario Connecting Children and Youth with Specialized Care
New pilot program will ensure children and youth with complex special needs connect to the care and services they need
Hamilton — The Ontario government is investing $97 million over three years to launch a pilot program at three major hospitals in Toronto, Hamilton and Ottawa to help children and youth with complex special needs such as developmental and intellectual disabilities, mental health concerns, chronic conditions and physical disabilities, connect to the highly individualized and specialized care they need.
Beginning in April 2023, the Integrated Pathway for Children and Youth with Extensive Needs pilot program will be offered at McMaster Children's Hospital, Holland Bloorview Kids Rehabilitation Hospital and Children's Hospital of Eastern Ontario.
"Our government is taking action to expand supports for children and youth with complex medical needs so they can lead healthier, happier lives," said Dr. Merrilee Fullerton, Minister of Children, Community and Social Services. "We are investing in creative and innovative solutions that will improve the lives and outcomes for our most vulnerable children and their families."
Families participating in the program will connect to a team of professionals, including physicians, social workers and behavioural consultants who work together to provide tailored support based on the individual needs of the child or youth and their families. Services can include adjusting medications, personalized behaviour support plans, mental health assessments and treatment, social work such as counselling for parents and caregivers, and specialized interventions to support children and youth to build skills such as communication and self-regulation.
"We have heard loud and clear that Ontarians want connected and convenient care, and our government is taking bold action," said Sylvia Jones, Deputy Premier and Minister of Health. "The status quo isn't working, and programs like this innovative integrated pathway will help to ensure children with complex special needs get the care they deserve."
Participating hospitals will work closely with local agencies serving children and youth with complex needs to identify children and youth who may be eligible to receive services through the pilot. Parents and caregivers can also speak to their service provider to find out whether services and supports delivered through the Integrated Pathway for Children and Youth with Extensive Needs pilot would be appropriate for their child.
This program complements the government's ongoing investments in front-line supports and services for children with special needs and their families, and is in addition to the $240 million investment over four years to help reduce waitlists and build additional service capacity for early intervention and rehabilitation services. The government has also removed barriers for parents who have concerns about their child's development by ensuring that all Children's Treatment Centres and Surrey Place can assess children without a referral, which will help with early
Quick Facts
When children in Ontario begin school, almost 30 per cent have at least one developmental vulnerability that could affect their lifelong health, learning and behaviour.
Special needs can include, but are not limited to, communication disorders, physical disabilities, developmental disabilities, acquired brain injuries, and chronic and/or long-term medical conditions. They can include specific diagnoses such as Cerebral Palsy, Down Syndrome, Spina Bifida, Autism Spectrum Disorder and Fetal Alcohol Spectrum Disorder.
Families with questions about their child's development and support needs can contact their local Children's Treatment Centre or Surrey Place in Toronto.
Families with children who have multiple or complex special needs can receive coordinated service planning and connect with a dedicated service planning coordinator at their local coordinating agency.
Quotes
"Far too often, young people with extensive needs get lost in between existing programs and services. Today, we are creating a new model which puts these children, youth and their families at the centre; with expert medical, developmental and social services wrapped around them. This unique collaboration between hospitals and our two ministry partners targets this significant need; McMaster Children's Hospital is excited to move forward providing children and youth with this important care, allowing families to focus solely on their child's wellbeing."

- Bruce Squires
President, McMaster Children's Hospital
"This new program was created as a direct response to the children with extensive clinical and developmental needs and social vulnerabilities who are falling between the cracks in our current systems. Holland Bloorview is pleased to be one of three regional sites across Ontario co-developing a wrap-around approach to serve these very vulnerable children and youth and their families. By working closely with our government, community and hospital partners, hundreds of young people and their families will have access to an innovative multi-disciplinary team approach."

- Julia Hanigsberg
President and CEO, Holland Bloorview Kids Rehabilitation Hospital
"Too many families have to fight to access care when their kids have extensive behavioural, developmental, medical and mental health needs. Some of those families have worked with our clinicians to use this significant investment to create an innovative, new program – unlike anything that exists in Canada – to make life better for these children and families, and promptly connect them with individualized care that meet their needs."

- Alex Munter
President & CEO, CHEO
"We're pleased that the Government of Ontario sees the value of joint investment by the Ministry of Children, Community and Social Services and the Ministry of Health to benefit kids and families. This is a novel approach and an excellent example of working together to build a service strategy for kids who require numerous providers and supports across multiple children's health and social sectors."

- Jennifer Churchill
CEO, Empowered Kids Ontario
"I am thrilled that McMaster Children's Hospital has been chosen as one of three major hospitals in Ontario that will be part of a pilot program to help treat children and youth with medically complex special needs. This program, while helping children and youth, will bring peace of mind to parents of children who require these specialized treatments, knowing that they can be accessed right here at home and at a world-leading health care facility."

- Neil Lumsden
Minister of Tourism, Culture and Sport and MPP for Hamilton East-Stoney Creek