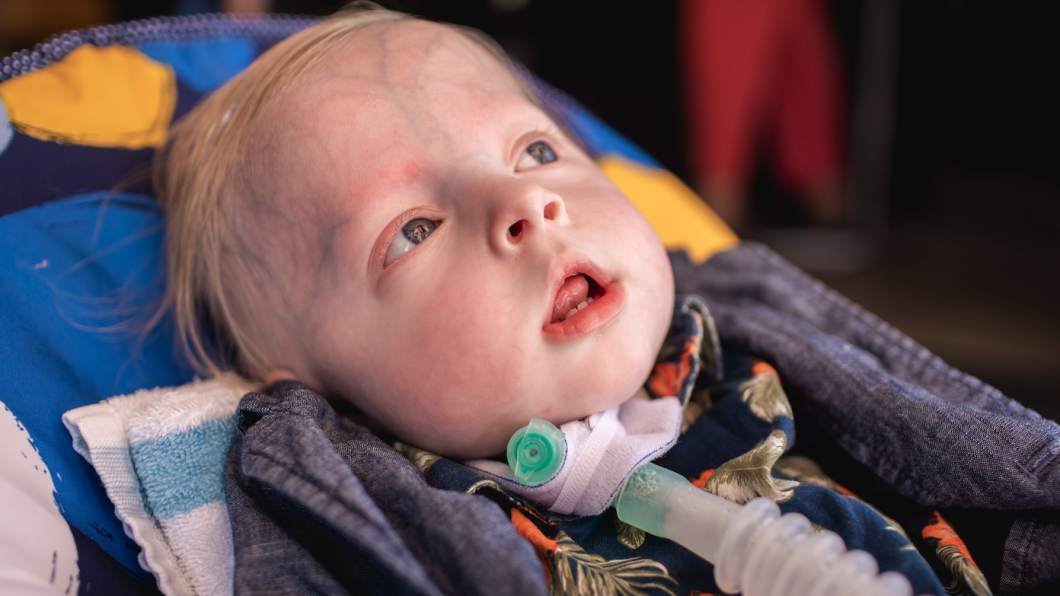 Government of Ontario investing $3.4 million in care for children with medical complexity
(Photo: Leo transitioned from Holland Bloorview to Safehaven when he was one and has been thriving ever since.)
TORONTO, Ontario. (May 3, 2022) – The Government of Ontario is providing $3.4 million over three years to fund a new transitional care program for children with medical complexity. Holland Bloorview Kids Rehabilitation Hospital ("Holland Bloorview") has partnered on the design of the new program at Safehaven. This funding will provide integrated, transitional care for children who require specialized supports to safely leave hospital.
"Our government is proud to support this transitional care program that will better meet the needs of paediatric patients and their families after facing a lengthy hospital stay," says Christine Elliott, Ontario's Deputy Premier and Minister of Health. "This funding will help enrich the quality of life for individuals with complex care needs as they transition back home."
Development of the program has already begun, and once implemented, it will support medically complex children up to age 18 and their families with dedicated beds at Safehaven during the very challenging time of transition from lengthy hospital stays to home and community.
"This is an innovative transitional care solution that advances personalized, integrated care for individuals with complex care needs and their families, following them from hospital to the community and then home," says Julia Hanigsberg, President & CEO, Holland Bloorview Kids Rehabilitation Hospital.
The program will also provide education and support for families to fully acquire the new skills necessary to care for their medically-complex child at home. It also aims to create capacity within specialty children's hospitals by alleviating the pressures from 'alternate level of care' clients (in hospital only because more appropriate care is not available) who can now be safely cared for in the community. 
"This program will address gaps in our current system and provide seamless transitions across the care continuum. Ensuring high quality and safe care for patients and families is a primary focus of this partnership," says Susan Bisaillon, CEO of Safehaven. "Our goal is to support an integrated approach to transitions across the continuum for medically complex children so that they can transition safely back to their homes or other community care support services." 
"Our son Leo transitioned from Holland Bloorview to Safehaven when he was only one and he's been thriving there for two years now," says Rebecka Graves, mother of Safehaven patient Leo. "He received incredible care at Holland Bloorview, but we knew it was best to have him in a community setting rather than a hospital. Ideally, we would like to have him at home, but if he cannot be home with us, we would not want him anywhere other than Safehaven."
This partnership builds on work Holland Bloorview has done in the past with Safehaven supporting complex care clients.
-30-
About Holland Bloorview Kids Rehabilitation Hospital
Holland Bloorview Kids Rehabilitation Hospital believes in creating a world where all youth and children belong. We are the only children's rehabilitation hospital in Canada focused on combining world-class care, transformational research, and academic leadership in the field of pediatric disability. We are a top 40 Canadian research hospital that is fully affiliated with the University of Toronto. Providing both inpatient and outpatient services, Holland Bloorview is renowned for its expertise in co-creating with clients and families to provide exceptional care and is the only organization to ever achieve 100 per cent in three successive quality surveys by Accreditation Canada. Holland Bloorview is a founding member of Kids Health Alliance, a network of partners working to create a high quality, consistent and coordinated approach to pediatric health care that is centred around children, youth and their families. Together we champion a world of possibility.  For more information or to donate, please visit hollandbloorview.ca or connect on Twitter, Facebook, Instagram, LinkedIn and parent-blog BLOOM.
About Safehaven Project for Community Living
Safehaven is a not-for-profit organization that has provided residential and respite care to individuals with medical complexities and developmental disabilities for over 30 years. At the core, our mission is to increase accessibility within community as a means of providing support to vulnerable populations. With five locations across the GTA, Safehaven continues to serve thousands of individuals diagnosed with cerebral palsy, down syndrome, muscular dystrophy, genetic disorders, and other medically complex care needs. Partnering with clients, families, agencies, and other organizations, Safehaven continues to provide exceptional care. For more information, please visit https://www.safehaven.to/ or connect with Safehaven on Facebook, Twitter, Instagram and LinkedIn. 
---
For media inquiries, please contact:
Erin Pooley
Senior Media Relations Specialist
Holland Bloorview Kids Rehabilitation Hospital
epooley@hollandbloorview.ca  
C: 647-406-3567
Larissa Smit
Director, Strategy and Innovation
Safehaven Project for Community Living
lsmit@safehaven.to
C: 647-927-1239