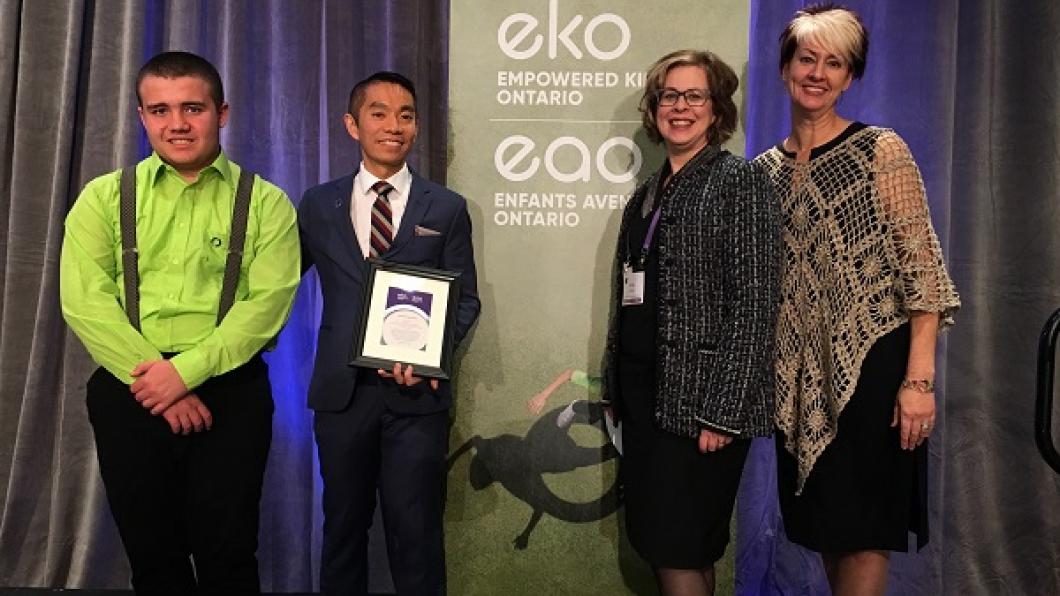 Holland Bloorview's Dear Everybody campaign receives Advocacy Award from Empowered Kids Ontario
Holland Bloorview Kids Rehabilitation Hospital and Foundation's Dear Everybody campaign was recognized for having an outstanding positive impact on the quality of life for children and youth with disabilities and their families. On Nov. 19, Dear Everybody, a national movement to end stigma for young people with disabilities, received Empowered Kids Ontario's Advocacy Award.
The Dear Everybody campaign amplifies the voices of kids and youth with disabilities, who tell us how they want to be seen with powerful imagery that challenges Canadians to rethink disability.
"I have always known that I am a scholar, and now the whole world knows that too," said Liam, who has a passion for history and wants to be a teacher. Liam, who has autism, shared his story in the campaign.
In Canada, there are more than 400,000 children and youth (up to and including the age of 24) living with a disability, including physical, intellectual, cognitive and others. Many people with disabilities routinely experience stigma in the form of whispers, social exclusion and fewer educational and employment opportunities.
"At Holland Bloorview, we know we can only create the most meaningful and healthy lives for children and youth with disabilities when we think about their futures and eliminate the senseless barriers caused by stigma," said Julia Hanigsberg, president and CEO of Holland Bloorview. "Thank you to Empowered Kids Ontario for this prestigious award and to Grandview Children's Centre and CEO Lorraine Sunstrum-Mann for nominating the campaign. We are honoured to be recognized among our peers for this important work to create a more accessible and inclusive society for all young people and the adults they will become."
In its second year, the Dear Everybody campaign encourages people to take action against disability stigma by engaging in conversations online and in person, and using resources that provide helpful information about how we can all be allies.
"Dear Everybody is so powerful because it was created by kids and youth with disabilities. Their voices are front and centre, telling the world what they want people to know about disability, stigma and who they are," said Sandra Hawken, president and CEO of the Holland Bloorview Foundation. "Thank you to Empowered Kids Ontario for recognizing the impact that this campaign is having on the day-to-day lives of Canadians."
The advertising component of the campaign is made possible through a partnership with KBS Canada. Holland Bloorview is proud and grateful to recognize M&H, Rodeo Production, Vapor RMW, The Vanity, DIVISN Post Production, Wingman VFX, and Keystone Studios for their pro-bono support of Dear Everybody.
For more information about the campaign and to download tools and resources, please visit DearEverybody.ca. Follow the #DearEverybody conversation on social media.
About Empowered Kids Ontario
Empowered Kids Ontario (EKO), formerly known as the Ontario Association of Children's Rehabilitation Services (OACRS), represents Ontario's publicly-funded child development and rehabilitation sector. With the united voice of our members, we promote evidence-based investments, policies and programs enabling smart, innovative approaches and service delivery so kids with special needs and their families live their best lives. Established in 1978, EKO is marking 40 years of dedication to a child development ecosystem that is integrated and family-centred. Our member organizations provide treatment and support to children, youth and families in every region of Ontario. Read about the new name here.
About Holland Bloorview Kids Rehabilitation Hospital
Holland Bloorview Kids Rehabilitation Hospital creates a world of possibility by supporting children and youth living with disability, medical complexity, illness and injury. Holland Bloorview is a top 40 Canadian research hospital that is fully affiliated with the University of Toronto and serves over 7,500 families annually. Providing both inpatient and outpatient services, Holland Bloorview is renowned for its expertise in partnering with clients and families to provide exceptional care and is the only organization to ever achieve 100 per cent in two successive quality surveys by Accreditation Canada. Holland Bloorview is a founding member of Kids Health Alliance, a network of partners working to create a high quality, consistent and coordinated approach to pediatric health care that is centred around children, youth and their families. For more information or to donate, please visit hollandbloorview.ca or connect on Twitter, Facebook, Instagram, LinkedIn and parent-blog BLOOM.