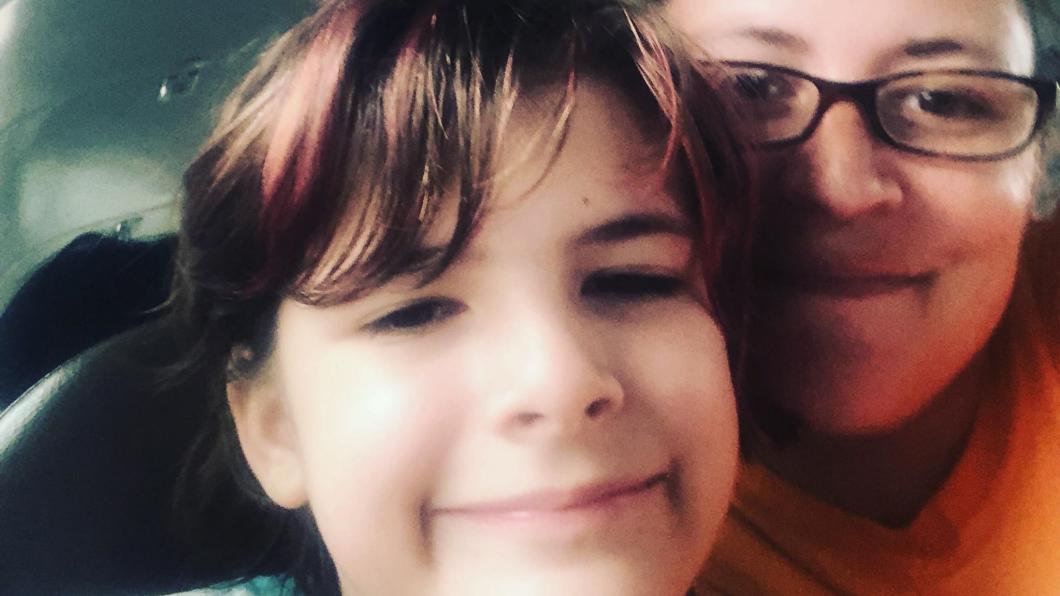 What's wrong with this picture?
By Louise Kinross

When Jillian Peters learned her mom had to come with her Grade 6 class on a two-night trip to the Toronto Islands, she didn't want to go.
"She didn't want to be different than everyone else," says her mom Cheryl Peters, a Holland Bloorview family leader. The principal informed Cheryl that even though Jillian didn't require care at night, she would need to be there on site, "for liability reasons." So while Jillian would bunk with the other girls, Cheryl would spend the night in a room adjoining a staff bedroom. "I wasn't given an option," says Cheryl, pictured above with Jillian on the bus.
Recently, there have been a slew of stories about children with disabilities or health conditions who aren't properly accommodated on day and overnight field trips. This story is about a Kentucky girl with spina bifida who was only able to go on a hike with her class because a teacher at her school carried her on his back. The school was in the habit of setting up "alternate activities" for the 10-year-old on field trip days—which meant she stayed back.
A BLOOM reader in Bern, Switzerland says she was required to go up a mountain—for multiple nights—to a camp her teen daughter was attending, in order for her to attend. The daughter has Type 1 diabetes, and the school said it wouldn't be responsible if her alarms went off at night. So mom had to make the trek up the mountain, and then down again the next morning, to go to work, and then repeat.
Closer to home, Kara Melissa Sharp wrote yesterday about how her family moved houses to ensure both children could attend the same Toronto school. One has a disability. "Imagine my reaction when I received an all-school field trip form that only one kid came home with," she writes. "And it was not the kid with the disability. When staff were confronted with not including the kids in the physical disability class, they defended themselves by stating that everyone was invited. No one was purposely left out. Teachers made their own choice for their classes whether to attend."
Meanwhile, when Jillian and Cheryl arrived at the Island Natural Science School, they realized the bathroom, which had been described as accessible, wasn't. "It was definitely bigger than a regular stall, but there were no support bars and no lift or change table."
While Jillian had lots of fun on the trip, "she was still upset that I had to go," Cheryl says. "We came up with the understanding that during the days, I would do my own thing, and she would call me on a walkie talkie if she needed me."
It was no small feat that Cheryl could get away. "I had to not work for three days, and my husband had to work from home so someone would be home with our daughter Lauren. Lauren had to stay home from school because we're waiting for an empty seat on Jillian's bus. If I couldn't go to the camp, we probably would have kept Jillian home, because there would have been no other Grade 6 students at school." 
Some of this sounds familiar to Alison Hughes, a former client at Holland Bloorview who now works as a senior philanthropy officer in our foundation. "In high school, another classmate carried me on and off the bus for our band trip, instead of the school providing an accessible bus," she recalls. On one trip an older student came along, and another time Alison's older sister came to help out. "I remember loving class trips," she says. "I don't remember being left out."
However, the cancellation of a Grade 8 white-water rafting trip because "it couldn't be made safe for me," still rankles, Alison says. "I didn't meet the weight requirement. At the time, I would have rather had the rest of the class go for that activity.
"Lots of decisions, especially in elementary school, revolved around me, and that sucked. It's an unpopular view, but I believe sometimes inclusion, when not done properly, can be its own form of isolation."
Alison notes that students often aren't involved in choices about how their needs will be accommodated. "Although a child shouldn't have to make a choice about being carried, that's not a reasonable accommodation."
BLOOM reached out to Ontario's education ministry to ask whether the government had a standard for accessibility that school boards needed to meet. This is the response we received from a ministry official: "School boards are autonomous institutions and it is recommended that parents contact their local school board regarding their policy on student accessibility to attend field trips."
Kara notes that an inclusion lens is "a plan of action. Not a reaction. How do we make sure everyone can take part in this event? Can everyone get to the event? Is the location accessible? Do the activities have options to include those with physical disabilities? Do we have a back-up plan if the schedule needs to change? Can we make sure everyone's eating needs are accommodated?"
Offloading these questions and dilemmas onto a child and a family is not inclusion.
"When an educator views your child as the one person that is asking to be accommodated, rather than seeing how to accommodate the group as a whole, that is not an inclusive lens," she writes. "When an educator singles out one student, the one with the physical disability, and tells his peers they they are waiting for him to finish eating before they can start their event, that's discrimination."