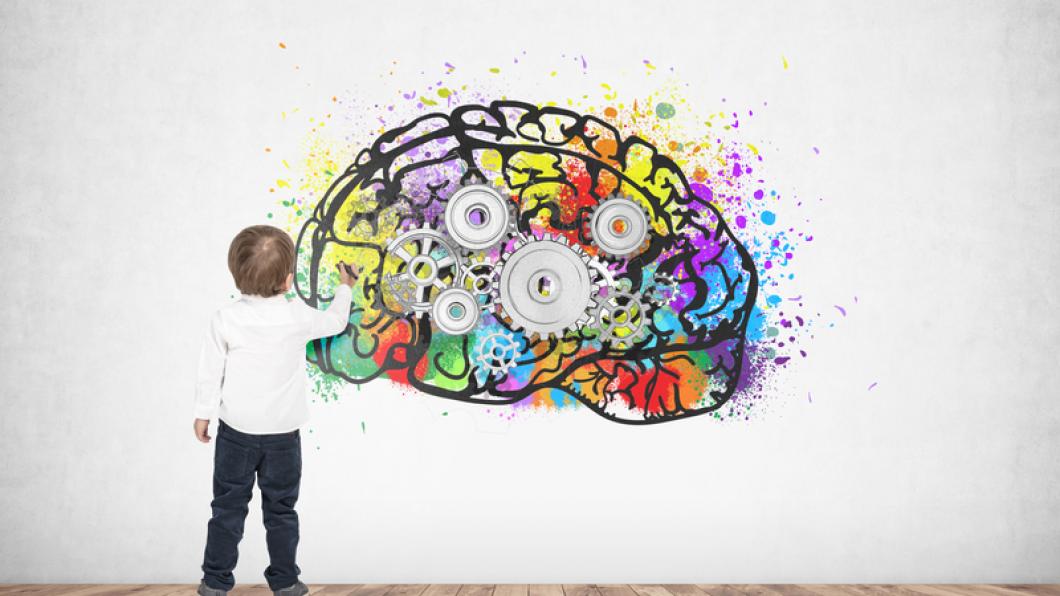 Clinicians ask moms to co-design an education workshop on parenting a child with brain injury
By Louise Kinross

Rebecca DiManno says her world was turned upside down in 2018 when her son Owen, then 14, suffered a massive stroke at a track and field event.
After life-saving surgery and a month of care at SickKids, he came to Holland Bloorview. Owen, a long-distance runner and hockey player, had no use of one side of his body, couldn't walk, and had issues speaking.
At Holland Bloorview, Rebecca's family learned that Owen had a brain injury. "For almost a month we knew he'd suffered a stroke and had mobility issues, but no one had explained that the stroke caused a brain injury that he'd have for the rest of his life," she says. "We were blindsided."
Today, after almost five months of inpatient rehab and ongoing therapy in the community, Owen is back at school and walking with an ankle-foot orthosis. He can't play hockey, but he's coaching it. And he just got his G1 licence. "We're very proud of him," Rebecca says. 
But in the early days, Rebecca says she felt utterly alone. "It's unknown territory. You have no idea what's going to happen in the future, and it's scary to talk about. Will my child ever get a job, drive, live alone? Obviously, your friends want to comfort you, but it's not the same as speaking to someone who is living it."
Through a friend, Rebecca connected with a woman whose son had had a similar injury to Owen, but was a few years ahead. "She knew what steps would happen next, and could encourage and coach me. She was my rock and saving grace."
Now Rebecca wants to share her firsthand knowledge with other families in similar situations.
This Monday, the Ontario Brain Injury Association (OBIA) is launching a half-day education workshop at Holland Bloorview for parents of children with brain injury caused by trauma or illness.
Rebecca was one of eight mothers who met with OBIA and Holland Bloorview staff to create the content. For over a dozen hours, the caregivers discussed their experiences, what helped, what didn't help, and what they wish they'd known earlier.
"The course includes a very comprehensive manual of tips, strategies and web resources that they can use in their continuing rehab journey," says Caron Gan, a family therapist at Holland Bloorview who was part of the project. "Nancy LaJoie from OBIA will facilitate the workshop, and the family leaders will introduce each section, and act as mentors in the group discussions."
Rebecca says participants will learn about how a family's dynamic changes when a parent takes on the role of caregiver to a hospitalized child. They'll also talk about strategies to manage parent stress and emotions, and learn how to advocate for their child at school. "I have neurotypical kids, so I had no idea what an Individual Education Plan was." 
Rebecca says the learning curve when your child has an acquired brain injury is steep and overwhelming. "The invisibility of brain injury was the biggest challenge for us," she says. "Sometimes we would look at Owen and see our neurotypical child, but he's not neurotypical anymore. It was hard to understand symptoms—like his exhaustion—because the brain injury is hidden. Caron Gan was the person who broke it down for us, and talked about where his injury was, and what it affected. She supported our family with information we could share with friends and family, including his sisters, so they understood."
Rebecca says she wanted to become a family leader and help create the education workshop "first, to be able to give back, because Holland Bloorview gave us our son back. And second, because I know what it's like to be the parent who just found out their child has a brain injury. You have so many questions, and you can't just ask anyone, because they won't understand."
After the launch of the workshop at Holland Bloorview, Nancy LaJoie of OBIA will take it to parents across the province.
"I want them to feel that they're not alone," Rebecca says. "I want them to know that it's okay to be upset, and to have difficult feelings, and to know that's normal. I hope they're able to network with other families at the workshop, to provide support to one another, and to find a level of peace."
Rebecca (second from right below) says it would be helpful if parents were introduced to what a brain injury is when their child is in acute-care. "We were told he had a stroke, but we didn't realize what that actually means. It would have been a bit easier for us if we'd known he had a brain injury right at the beginning."
Monday's workshop is free to participants, and funded by the Ontario Ministry of Health and Long-Term Care and Gluckstein Lawyers.