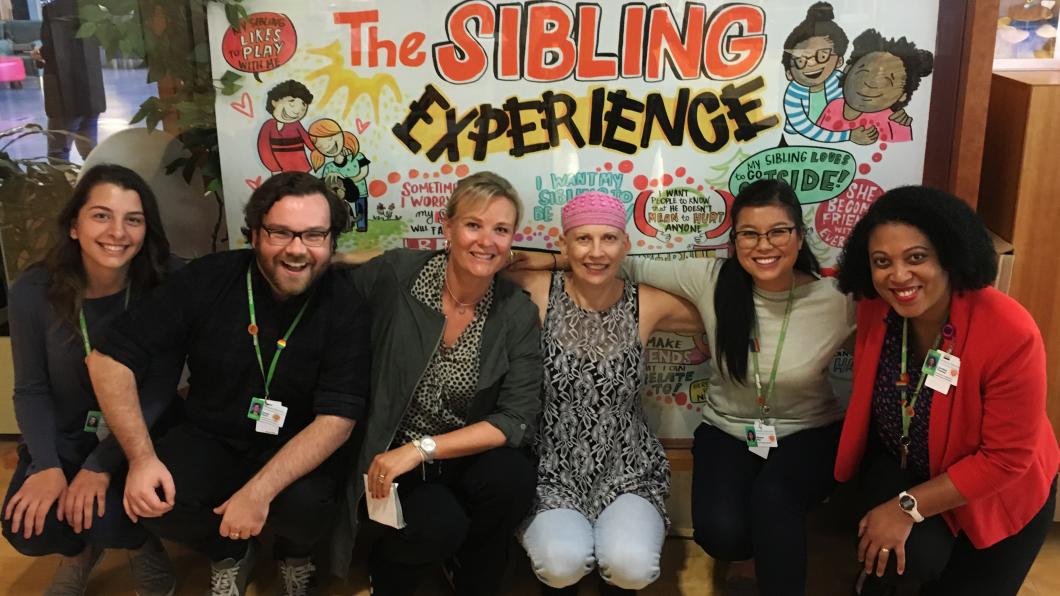 Around the world, brothers and sisters are no longer an afterthought in a disabled child's care
By Louise Kinross

An international ambassador for the siblings of children with disabilities visited us on Friday.
Anjet van Dijken (third from left in photo) advises the Dutch government and researchers on how to engage and support siblings in the lives of their brother or sister.  In 2013, Anjet wrote The Brothers and Sisters Book, the first Dutch book for siblings of children with disabilities and chronic illness. In 2017, she wrote a second book for siblings of children who are hospitalized. Anjet continued her research and consultancy work on siblings in France and Belgium, before moving back to Holland. She recently brought siblings to the table in the creation of a website for teen carers in six countries in Europe. Anjet is a sibling herself: her older brother Jalbert has vision loss and autism and, as was customary in Holland where they grew up, he went to live in a home when he was six. She visited Holland Bloorview on Friday to learn about our sibling program and annual panel.
BLOOM: You said Holland is trying to change its approach to siblings. Can you explain?
Anjet van Dijken: In the past, the government encouraged parents to send a child with a disability to a home, and the idea was that the home would care for the child indefinitely. For six weeks, the family was not allowed to see the child, and the hurt from that separation is still there. Often, the homes were a long distance away from the family, and siblings weren't welcomed there. For example, I was banned from using the Snoezelen room at my brother's home. It felt very unwelcome.
Five years ago, our prime minister said we're becoming the participation society. Recently, a basket of $90 million was made available to help better include parents and siblings in the lives of people with disabilities. Health-care organizations will be judged, in three years, on how well they've supported and included families.
I've created the We Care consultancy to make sure siblings are included in the definition of 'family:' that they are addressed, get the right information and can voice their opinion on what matters to them. As a social entrepreneur, I bridge the gap between care organizations, local governments, researchers and siblings. These siblings are now in their 40s, and their parents are aging, and they'll be taking over care of their brother or sister.

In Holland, families—and especially siblings—are not yet included in a medical setting. If you're a sibling and you go to see your brother in hospital, you'll be told 'It's about your brother.' They don't have a sense of the ecosystem around a child, and how that helps the patient. As one sibling says in my book 'There's a coffee machine for parents, but nothing for me.' No thought has been given to the two to three hours the sibling may spend waiting in the hospital. I want it to be so normal that if you talk about family care in a hospital, that includes siblings, too.
BLOOM: What's a project you're currently working on?
Anjet van Dijken: In a partnership, we're developing an innovative online tool for siblings aged six to nine. It's a game where you're a character, and you find yourself in a common situation that siblings go through, and you learn to ask for help and talk about your emotions. 
Also, in light of the saying 'Nothing about us without us,' siblings will be organizing a conference here about young carers for professionals in the coming year. They will decide which professionals showcase their practice, knowledge and products.
BLOOM: Why did you want to visit Holland Bloorview?
Anjet van Dijken: I needed to know what my focus and priorities were going to be over the next five years. I wanted to know how you got family-centred care in this rehab facility. I wanted to know how I could change things for siblings in the Netherlands. In Holland, the idea is that you shouldn't bring children to the hospital. I want to connect siblings, so we can all make a change in diverse fields. It could be something as simple as putting 'lived experience' in a job posting for an early childhood educator. I'd never heard of that before I came to Holland Bloorview.
BLOOM: Yes, a number of our staff are siblings themselves.
Anjet van Dijken: I wanted to see with my own eyes how you did it. Just hearing about how you've set up monthly groups for siblings, and that you have an annual panel that lasts for two hours. That would never happen in Holland. In Holland, we would be told 'We only get money for the child who is sick. That's not our mandate.' I learned that your staff who are siblings only spend a small part of their time on sibling care. But it's important to them, because it's personal. It works so well because they have extra motivation, because of their personal experience.
BLOOM: What else did you get out of your visit here?
Anjet van Dijken:  Hope.
I learned that in rehab, where families come for many years, there may be more of a willingness to invest in sibling support, and that it will be more difficult to do this in acute-care hospitals. I'm someone who wants change quickly. So it was good for me to see that your change was an evolution, and it started with a parent, June Chiu, and it's continued on with some of the siblings who are staff that I met.
I realized that some of the initiatives we've started for siblings in Holland—that run for three years and then end—weren't successful because they were created by professionals. The change must come from the siblings themselves. I feel I'm on the right road now, as a pioneer. If I can convince the CEO of a hospital to do one small thing, eventually—even if it's in 20 years—it will be normal that siblings belong to a family in a support system here.
Here's a more indepth interview BLOOM conducted with Anjet in 2014—about her life as a sibling and book.