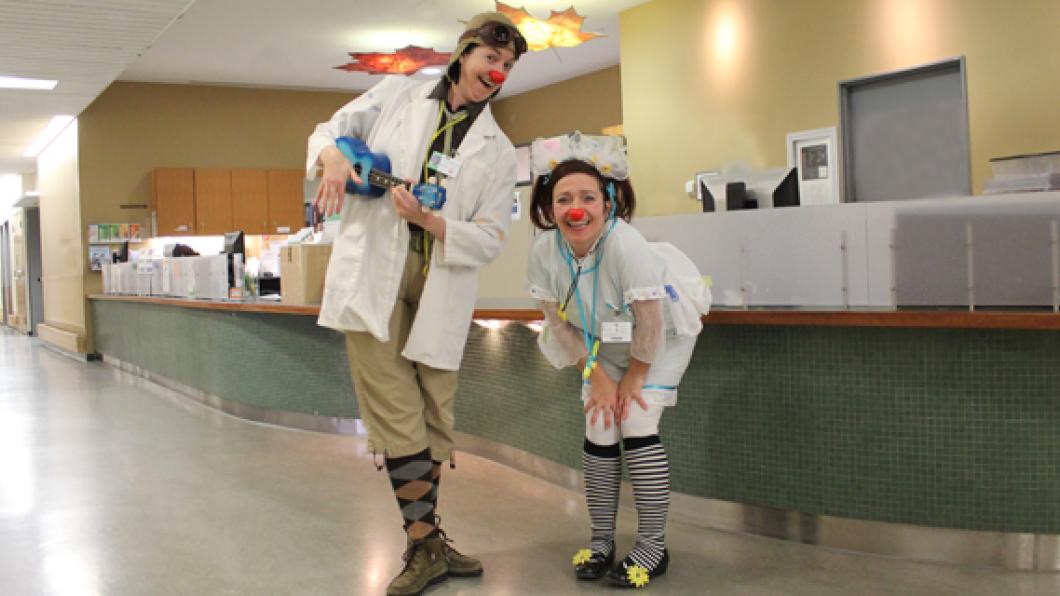 Story
Send in the (therapeutic) clowns
One of the most magical devices that helps ease pain at Holland Bloorview is a big red nose.
That's what Helen Donnelly dons three days a week at Holland Bloorview when she transforms into Dr. Flap, facing the pain, anxiety and isolation that can often be part of a client's experience in healthcare.
Joined either by Nurse Flutter or Nurse Polo, these therapeutic clowns use music, movement and physical comedy to inject a much-needed dose of laughter and levity for clients, families and staff.
They even offer new ways of looking at life, which is part of the clown's 'toolkit'.
"Our job is to find a way to connect in a very authentic way, offering opportunities for lightness and for joy," said Helen.
How that connection begins is always up to the client or parent, she stressed.
"People think that clowning is putting on a show or doing something pre-planned, but as therapeutic clowns, we're guided by our clients – we go where they want to go."
Sometimes the nature of the intervention is light and silly, and sometimes it can reflect a deeper truth about a client's mood or experience.
"We're able to find ways to allow them to feel in control and powerful again," said Helen. "The clown's ability to instill a sense of superiority in everyone is both a deliberate and therapeutic device and a big reason for us being here."
Hard work before hilarity
Behind every chuckle and imaginative play are countless hours of preparation and paperwork.
Helen begins her week with "inter-professional rounds." That's where she and her team share stories with clinicians about kids they have seen, offering her thoughts on their behaviour and state of mind.
"We give them updates on things we're noticing; like how a client is expressing themselves and any changes in mood we feel the team should know about," she said.
"It's also an opportunity for us to ask questions. If we're noticing a change in energy for example, we can ask if there has been a difference in medication that would account for that."
She will also connect with the hospital's Child and Youth Workers, Social Workers and Child Life Specialists to delve into the clients' psycho-social well-being, flagging children and youth who might be suffering from loneliness, depression, or self-isolation.
"They give us a deeper piece of the puzzle in terms of how to prioritize our clients," she said.
And every day the clown practitioners look up each client they are about to see in the Electronic Medical Record to give the team a complete snapshot of their client's care plan and important updates.
Clinicians love the clowns
Helen and her teammates will also review treatment schedules to see if they can provide a welcome diversion during procedures like needles or changing a dressing.
"We can be used as a tool to assist clinicians to make it a better experience for our clients," she said. "If there's proper diversion, things can be done very quickly, saving time and stress."
Over the course of a day, Dr. Flap and the other clowns see between 20-25 clients over three and a half hours.
And mixed in with their visits, she and the other clowns might sing a celebration song for the nurses in their break room, or they might on a rare occasion even interrupt a budget meeting with the senior team.
"Everyone feels stress from time to time and it helps to have a fool in the court that can remind us that this is also a place of fun, humanity and connection," she said.
When the nose comes off
And at the end of the day when the nose comes off, Helen's work is far from done.
"We usually choose three highlighted cases to pick apart and critique," she said. "It's an opportunity to assess our performance and brainstorm about next time."
Then it's more paperwork, where literally every intervention is recorded. They are the first Therapeutic Clown Program in the world to electronically contribute to the client's permanent health care record.
"We describe who was in the room and the nature of the intervention. Was it diversion? Accompanying therapy? Was it a spontaneous hello in the hallway?"
She also carefully rates the level of reaction of each client they see. "It's important for clinicians to track the clients' journey with us," she said.
Dr. Flap delighted to meet 'Leg'
Sometimes, a client's reaction is priceless.
Helen remembers visiting a four-year-old girl who was scheduled to be fitted with a prosthetic leg.
"We were encouraged to put a positive spin on this occasion," she said.
When the day arrived, the child was visibly excited and the clowns fed off that. They made "Leg" into a living, breathing character that they were all delighted to meet.
"This little girl totally played along and said that 'Leg' would love to meet us, and we carried on a conversation with 'Leg,'" said Helen. "She was extremely playful and even adopted a special 'Leg' voice and became a master puppeteer!"
"We were asking Leg, 'What is your favourite food? Do you like pizza Leg? Do you like us so far, Leg?'"
"It was a lovely example of the power of the imagination and how it can transport us from tragedy to comedy," added Helen. "It's a beautiful thing to see and inspiring for us."