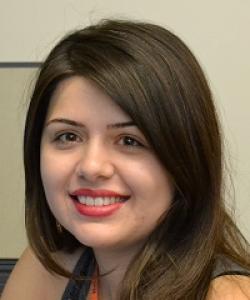 Rozhin Yousefi
Graduate Student
PhD Candidate
Institute of Biomaterials and Biomedical Engineering, University of Toronto
Advisor: Dr. Tom Chau
Education
Rozhin is a Ph.D student in the department of Biomedical Engineering at University of Toronto. She received her M.A.Sc degree in electrical and computer engineering from University of Waterloo in 2012. She has a B.Sc. degree in electrical engineering from Sharif University of Technology.
Research Interests
Rozhin's research interests include developing brain-computer interface (BCI) devices, medical imaging (MRI and Ultrasound imaging) and biomedical signal processing. Her current research is the development of electroencephalography (EEG) based brain-computer interfaces for communication proposes with real-time feedback.
Other Interests
Rozhin spends her spare time watching movies, playing board games and painting. She also enjoys cooking, swimming and playing tennis. Her all-time favourite TV show is "Friends" and she claims she can beat anyone in any "Friends" trivia quiz.