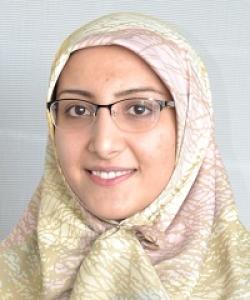 Maryam Mokhberi
Masters of Applied Science Candidate
Institute of Biomaterials and Biomedical Engineering
Advisor: Dr. Tom Chau
Education & Training
Maryam received her Bachelor's degree in Electrical Engineering from University of Tehran, Iran, in 2015. During her undergraduate years, she had the opportunity to develop a project to investigate the learning disorders in addict individuals using computational modeling in reinforcement learning framework. She also had the chance to do a research internship and design a cough detection module to be embedded in a dysphagia detection algorithm. Maryam hopes to improve the quality of life of children with disabilities while doing research in the PRISM Lab.
Research Interests
Maryam's current research focuses on investigating the effect of meditation on the oscillations of EEG signals. Specifically, she is evaluating how meditation and mental rehearsal affect the classification accuracy of brain-computer interface (BCI) devices in a pediatric context. She hopes to improve the quality of life of people with disabilities by introducing a new means to enhance BCI performance.
Other Interests
In her spare time, Maryam enjoys astronomy and night sky observation. She also likes hiking, reading books and photography. Maryam cares about world social problems and tries to be active in fighting against child labour, addiction and poverty.