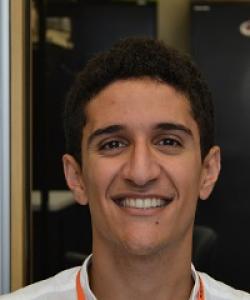 George Hanna
Graduate Student
MASc Candidate
Institute of Biomaterials and Biomedical Engineering, University of Toronto
Advisor: Dr. Tom Chau
Education
George received his Bachelor of Applied Science in Biomedical and Electrical Engineering from Carleton University in 2017. During his undergraduate degree, he completed 16 months of cooperative education in a variety of workplace environments, which include Nokia, INRS-EMT, EMcision International and Sunnybrook Health Sciences Center. His fourth-year capstone project was completed in collaboration with the Carleton Sports Medicine clinic and involved the development of a system for concussion recovery assessment by means of eye tracking, EEG and posture analysis.
After working on several projects involving the use of commercial EEG headsets, George developed an interest in brain-computer interfaces and subsequently joined the PRISM lab in 2017.
Research Interests
George's research focuses on creating and evaluating a hybrid EOG/EEG-based human-computer interface (HCI) controlled by steady state visually evoked potentials. The HCI is being designed for adults with severe motor disabilities who are unable to communicate verbally or with body language, such as those with severe forms of cerebral palsy or ALS. He hopes that his research efforts will result in a general use portable device that may be used by these individuals in their day-to-day communication needs.
Other Interests
In his free time, George plays Spanish guitar and creates videos. He also dances Bachata and Salsa. George is a big supporter of FC Barcelona and enjoys playing soccer, squash and snowboarding.