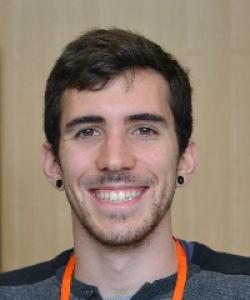 Filip Stojic
Masters of Applied Science Candidate
Institute of Biomaterials and Biomedical Engineering
Advisor: Dr. Tom Chau
Education & Training
Filip received his Bachelor of Science in Neuroscience from the University of Toronto Scarborough in 2014. During his co-op placement at St. Michael's hospital, he researched methods of treating and assessing stroke patients, and assisted in writing a chapter on clinical outcomes, stroke trials and cognitive outcome in a textbook titled "The Behavioural Consequences of Stroke". For his fourth year undergraduate thesis, Filip investigated the role of the SIRT3 protein as a neuroprotective agent against Parkinson's disease in an animal model.
Current Research
Filip is interested in developing an EEG brain-computer interface that relies on visual imagery. A paradigm like this would work without depending on motor neural pathways, or eyesight, and would allow for intuitive commands as output signals. Filip is also interested in using standardized neuropsychological tests to determine BCI performance.
Other Interests
Filip loves to read and write, and occasionally to paint. He enjoys travelling and the outdoors. On his weekends off, Filip competes in an axe-throwing league in Toronto.