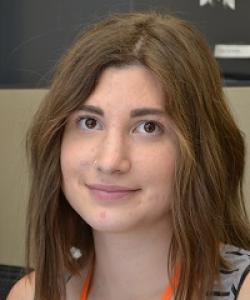 Erica Floreani
Graduate Student
M.A.Sc. Candidate
Institute of Biomaterials and Biomedical Engineering
University of Toronto
Advisor: Dr. Tom Chau
Education & Training
Erica earned her Bachelor's degree from the University of Calgary in mechanical engineering with a specialization in biomedical engineering. During her undergraduate studies, Erica participated in research internships in several labs that explore a variety of areas of the biomedical engineering field, including investigating osteoarthritis in the Human Performance Laboratory at the University of Calgary, modeling bone healing in the Lab for Bone Biomechanics at ETH Zurich, Switzerland, and studying cardiomyocyte regeneration at the Center for Regenerative Therapies in Dresden, Germany.
Research Interests
Erica's research is focused on developing a brain-computer interface (BCI) device that can detect positive and negative emotional responses in children through changes in their cerebral hemodynamic activity. Such a BCI device could ideally be used as an access pathway to communication for children with severe physical disabilities who have had limited success with existing assistive communication technologies. Once finished her Masters' degree, Erica would like to continue working in this area, pursuing a career in the development of assistive technologies.
Personal Interests
Erica loves to travel but will always call Canada her home, especially Western Canada and the Rocky Mountains. Erica's favourite things are probably dancing and music, but also enjoys photography, good food and watching good movies in her free time.