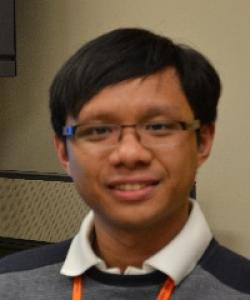 Andrew Wong
Masters of Health Science Candidate in Clinical Engineering
Institute of Biomaterials and Biomedical Engineering
Advisor: Dr. Tom Chau
Education & Training
Andrew received his BASc in Engineering Science (Biomedical Systems Engineering) from the University of Toronto, in 2015. As part of a fourth year undergraduate design project, he worked on developing an Android-based system for frequent upper-limb functional workspace measurements to track neurological recovery using a smartwatch.
Research Interests
Andrew's research interest is in the development of near-infrared spectroscopy based brain-computer interfaces as a tool for communication. His current project looks at the effect of systemic blood flow on NIRS measurements in children, and how it affects BCI classification accuracy.
Other Interests
In his spare time, Andrew enjoys photography, traveling, and exploring new places. He also enjoys cycling and yoga to keep active. He is passionate about education and teaching children about STEM.