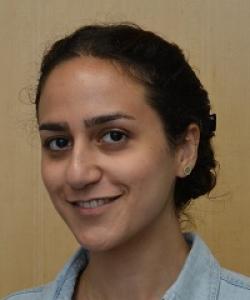 Mary Fallah
Graduate Student
Masters of Applied Science Candidate
Department of Electrical and Computer Engineering
Advisor: Dr. Tom Chau
Education & Training
Mary received her Bachelor's degree in Electrical Engineering from Amirkabir University of Technology (Tehran Polytechnic) in 2016. Mary has worked on different projects in the area of signal processing with varied applications such as recommendation systems and indoor localisation.
Research Interests:
Mary finds multidisciplinary research fields very interesting and is working on a combination of natural language processing and brain-computer interfaces. She hopes that her research will help those with speech difficulties to communicate in a faster and easier manner.
Other Interests
Mary enjoys reading novels, cooking, listening to music and salsa dancing. She also loves travelling and being adventurous. She finds peace in spending time with nature.