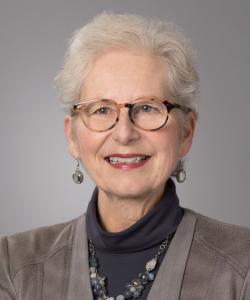 Marg Rappolt
Chair, Board of Trustees
Marg Rappolt has extensive experience as a strategic leader in public policy, and human service transformation. After working for 36 years in two provincial administrations, she retired from the Ontario Public Service in Fall 2014.
Most recently, Marg had served for five years as the Deputy Minister of Community and Social Services. She also held Deputy and other executive leadership positions in a number of government ministries, including: Health and Long Term Care; Health Promotion; Seniors; Aboriginal Affairs; and the Ministry of the Attorney General.
Marg currently serves as an external advisor on audit and risk for a ministry of the Ontario Government. She is also a first director of the newly established not for profit Housing Construction Regulatory Authority. Marg is a past director of the board of the Toronto Mendelssohn Choir, and still actively sings with the choir.
Marg holds a Masters of Public Administration degree and an Honours BA in Political Science from Queen's University.
Marg joined the Holland Bloorview Board in January 2015. She is Chair of the Board and a member of the Governance Committee, Business & Audit Committee, Quality Committee, Research, Teaching & Learning Committee and the cross- appointee for the Holland Bloorview Kids Rehabilitation Hospital Foundation.