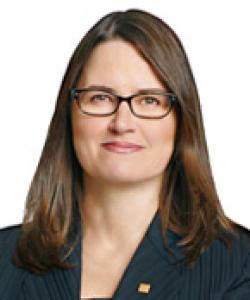 Laura Dottori-Attanasio
Senior Executive Vice President & Chief Risk Officer, Canadian Imperial Bank of Commerce (on leave until April 2021)
Laura Dottori-Attanasio is Senior Executive Vice President & Chief Risk Officer at Canadian Imperial Bank of Commerce (CIBC) where she leads the Risk Management function which encompasses all areas of Strategic, Market, Credit, Operational, Liquidity and Reputational Risk, as well as Compliance and Anti-Money Laundering.
Previously, Laura was Global Head of Corporate Banking where she had Business Unit responsibility for Corporate and Global banking and ran all credit activities for CIBC's Capital Markets.
She has over 25 years of experience in the finance sector and holds a Bachelor's Degree (Finance and Economics) from the University of Western Ontario.Before joining CIBC, Laura was with one of Canada's Chartered Banks where she held a number of senior positions.
Laura is a member of the Board of Directors of Teck Resources, and GARP (Global Association of Risk Professionals).
She was inducted into the WXN "Top 100 Most Powerful Women in Canada" Hall of Fame.
Laura joined the Holland Bloorview Board in June 2018 and is a member of the Research, Teaching and Learning Committee.