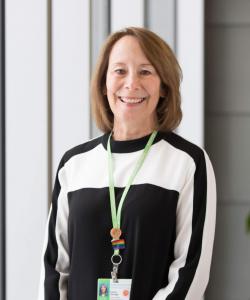 Diane Savage
Vice-President, Experience and Transformation
Diane Savage serves as vice-president of experience and transformation at Holland Bloorview Kids Rehabilitation Hospital.
Since joining Holland Bloorview in 2009, Diane has been a driving force in leading the evolution of holistic, strength-based rehabilitation programs and collaborative practice. This effort has been propelled by an award-winning family leadership program, recognized for innovation in co-design of all aspects of care.
She has held a range of titles at the hospital, including senior director of participation and inclusion, co-lead of the Centre for Leadership in Participation and Inclusion and vice-president of programs and services. Diane also serves as part of the organization's international health consultation team.
Prior to Holland Bloorview, Diane served in progressive roles at Mount Sinai Hospital, including director of social work and corporate lead, to advance patient access and transition to the community. She established the hospital's first research consortium for social work and advanced the human rights and diversity agenda. Diane held board governance roles in the not-for-profit sector, having sat on a variety of community boards, including the VHA HomeHealth Care, a key provincial agency delivering home supports to adults and children with complex needs.
As vice-president of experience and transformation at Holland Bloorview, Diane takes executive leadership for patient experience and systems and community partnership development, building on her outstanding record of developing integrated, innovative programs to serve clients and families. Bringing an enhanced focus on serving structurally underserved children and families, her portfolio embeds client and family experience into everything Holland Bloorview does.
Diane, who holds adjunct lecturer status with the Factor Inwentash faculty of social work at the University of Toronto, obtained a master's in social work from Wayne State University in Detroit, Mich. and is a registered social worker with the Ontario College of Social Workers and Social Service Workers