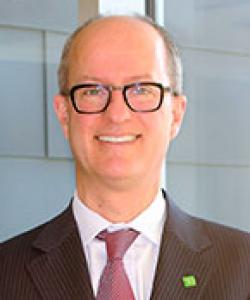 Bruce Cooper
CEO and CIO, TD Asset Management
Bruce Cooper is Chief Executive Officer and Chief Investment Officer of TD Asset Management and Senior Vice President of TD Bank Group. He oversees all investment management for TDAM, one of North America's leading Money Managers. In addition, Bruce is Chair of the Chief Investment Office Council and is co-chair of the TD Wealth Asset Allocation Committee. He has worked for TDAM in both Toronto and the UK and has managed Canadian, US, and global equities across a variety of mandates.
Bruce received a B. Comm from Queen's University in 1988 and an MA in Political Science from McGill University in 1991. He is a CFA charter holder.
Bruce joined the Holland Bloorview Board in June 2015 and is the Chair of the Investment Subcommittee and the Chair of the Business & Audit Committee of the Board.