PEARL Labs - Research Areas
Virtual Reality Therapy (VRT)
Watch the video to learn about our work in VRT from the Director of the PEARL Lab, Dr. Elaine Biddiss.
We are developing a low-cost, home-based VRT platform focused on therapeutic interventions for CP, that capitalizes on children's interest in video games and their potential for enacting neuroplastic change through repetitive play, increased motivation, feedback, and increasing levels of complexity.
Games have been developed that enable us to impose "virtual constraints" to encourage use of the hemiplegic limb by disproportionally rewarding the hemiplegic hands use in bilateral games and requiring its solitary use in unilateral games.
Current development is focused on endowing the system with more accurate motion capture abilities for fine motor movements, greater capacity for customization to each child's individual abilities and disabilities, and packaging the individual games into an integrated game platform that is engaging and fun.

---
Interactive media in healthcare spaces
Click
here
to view the team behind ScreenPlay!
Waiting in a doctor's office or hospital can be a very stressful and fearful experience for children and their families.
Some pediatric waiting rooms provide toys to distract children and relieve anxiety and boredom. Traditional toys, however, can spread infections when handled and are often not accessible to children with disabilities who may not have the dexterity or mobility needed to play with them.
We have designed an interactive and inclusive waiting room environment that features a large-scale projection wall that children and adults of all abilities and disabilities can interact with via a pressure-sensitive floor. We call this experience ScreenPlay.
We think that ScreenPlay will help reduce waiting room anxiety and improve healthcare experiences for children and their families and have undergone a randomized control trial to find out. Currently, we are exploring sound and musical interactions to augment the visual environment of ScreenPlay and enhance the accessibility of the system. We will also extend concepts developed in ScreenPlay to the creation of accessible opportunities for musical and artistic expression.
---
Technology for health and wellness
Physical inactivity is an important health concern for young people with links to diabetes, cardiovascular disease and cancer.
For young people with disabilities, the risks for and prevalence of physical inactivity are even higher due to social and environmental barriers. Nevertheless, physical activity is extremely important for these children to maintain/improve function and quality of life.
We are evaluating and developing new technologies that encourage enjoyable physical activity by overcoming established barriers to physical activity such as accessibility and social isolation. This line of research merges technology design (hardware and software), biomechanics, cardiopulmonary assessment with the psychology of behavior change and interaction design.
One way of motivating physical activity is through social interaction and inclusion. Technology has the potential to connect children and youth with disabilities and strengthen their social networks. To this purpose, we are exploring how technology can facilitate social support networks in physical activity promotion. Using a participatory design approach we are working to identify, formulate, and explore potential technology-based strategies that will foster a supportive social environment for physical activity. We want to know more about:
- Adolescents' views on the role of social support networks in physical activity promotion.
- How can we design technologies that could help support these social networks and physical activity?
Families interested in taking part in research related to social participation, technology, and physical activity please click here
---
"Emotion"- aware assistive technologies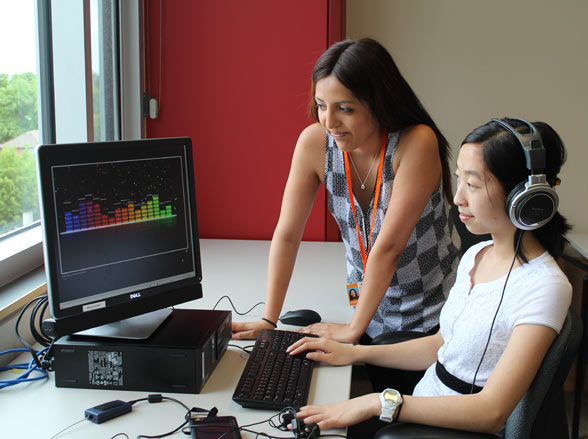 Physiological indicators and contextual cues can lend insight into an individual's emotions, arousal and attention, knowledge of which can be used to augment communication interfaces and assistive technologies.For example, we have demonstrated that biomusic – musical mappings of physiological signals – can be used to detect anxiety states in children with and without autism spectrum disorders.
We are currently developing this platform and others for the purposes of biofeedback, adaptive learning environments, and communication interfaces.
Click
here
to listen to an example of an individual's baseline, or emotionally neutral biomusic.
Click
here
to listen to an example of an individual's biomusic while having feelings of anxiety.