Ajmal Khan, M.H.Sc., P.Eng.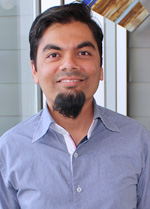 Research Engineer and Manager of the PEARL Lab
Ajmal earned his B.A.Sc. in Electrical Engineering from the University of Toronto and started working as a software developer in the embedded devices field. After working for several years at different technology companies, and taking part in various stages of product design and development, Ajmal was looking for a change. He decided to pursue further education and earned his M.H.Sc in Clinical Engineering from the University of Toronto, under the guidance of Dr. Elaine Biddiss.

Ajmal continues to work with Dr. Biddiss in bringing her innovative ideas to life and considers himself fortunate to be a part of the amazing work done at Holland Bloorview Kids Rehabilitation Hospital.